Having three little boys at home I have mixed feelings about summertime.  I really love sleeping in, there is no homework to oversee and of course I don't have to run around in the morning packing up lunches and backpacks!  However, it also means that my grocery bill goes up to keep a constant supply of snacks and popsicles on hand, trying to keep my boys entertained, and my house is in a constant state of messiness.
I have been better than I have past summers and trying to plan daily activities that are fairly simple, but fun.  Making cookies is a weekly event and we all loved these Strawberries and Cream Sugar Cookies.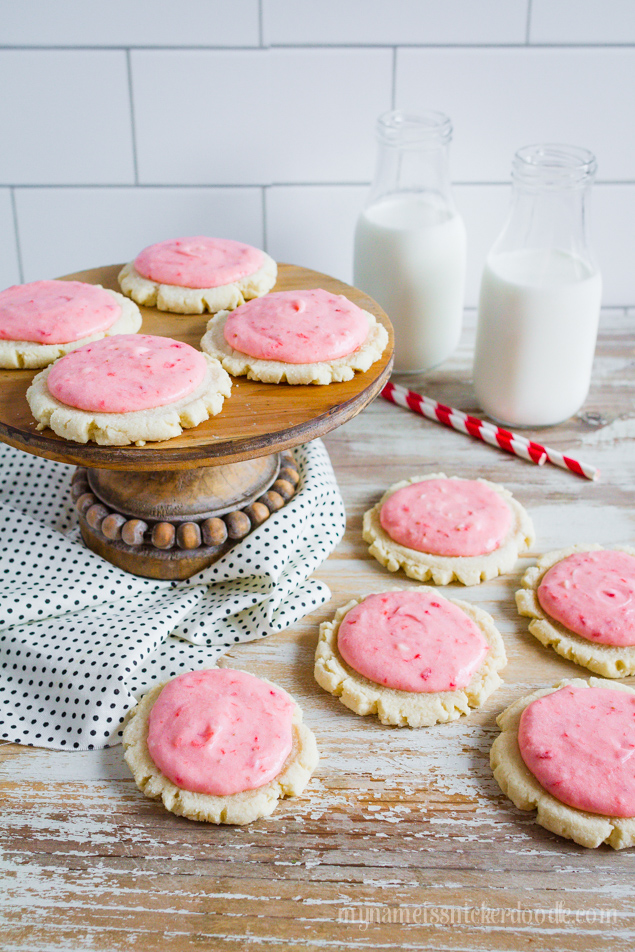 These updated sugar cookies are frosted with a fresh strawberry butter cream frosting.  Truly scrumptious and the secret ingredient is the sour cream.  It makes it extra creamy and balances out the sweetness of the powdered sugar and strawberries.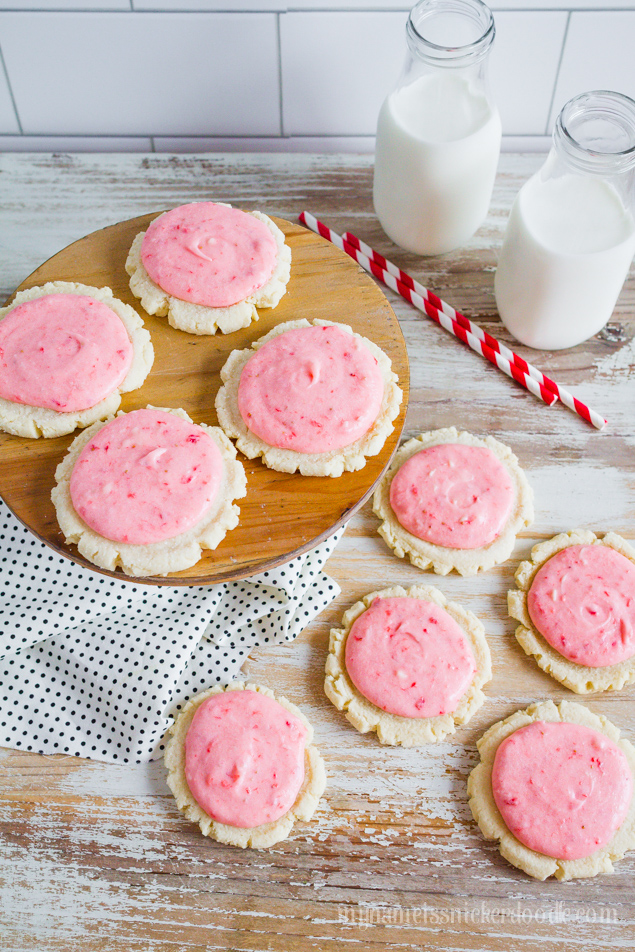 Because of the sour cream these cookies need to be stored in the refrigerator.  I'll be honest, they are so much better chilled!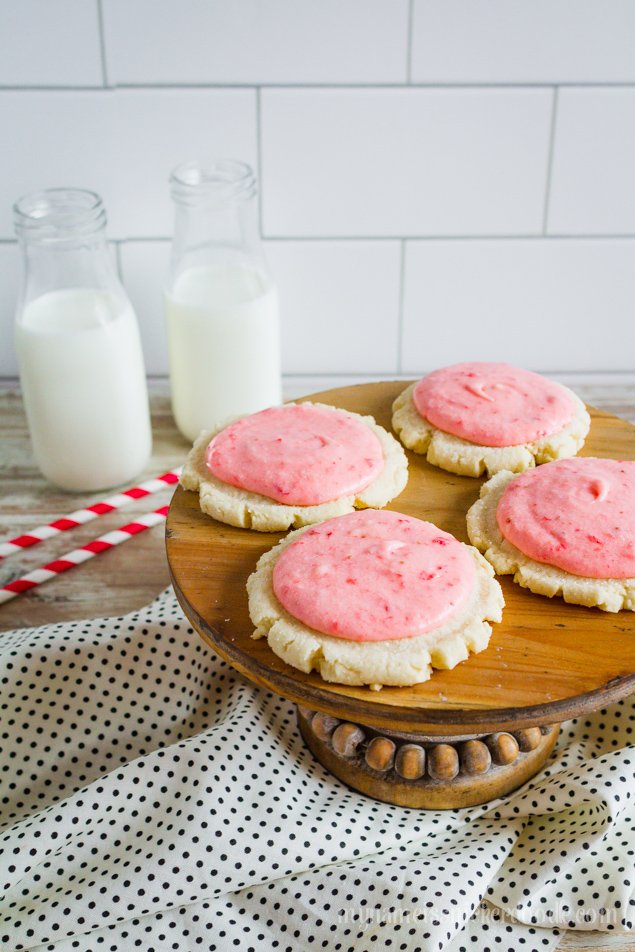 We make them to simply enjoy a different style of cookie, but how great would these be for a baby shower, bridal shower or a summer party?!  You could even make them a little fancier and place a sliced strawberry right in the center.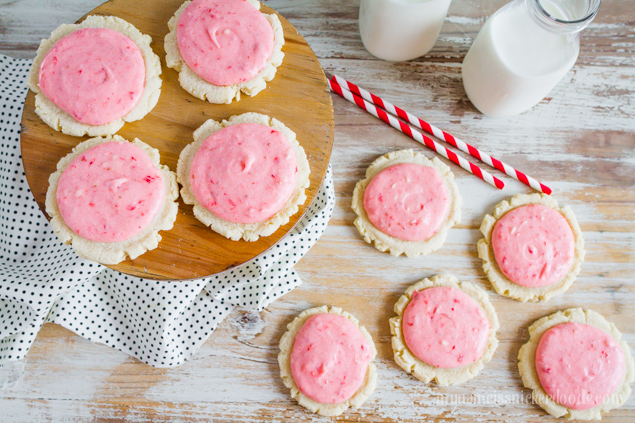 Strawberries And Cream Sugar Cookies
Makes 36 Cookies
Ingredients
FOR COOKIES
1 cup butter, softened
3/4 cup vegetable oil
1 1/2 cups granulated sugar, divided
1 cup powdered sugar
2 TBSP milk
2 large eggs
1/2 tsp baking powder
1/2 tsp cream of tartar
1/2 tsp salt
5 1/4 cups all purpose flour
FOR FROSTING
1/2 cup butter, softened
1 1/2 tsp real vanilla extract
4 cups powdered sugar
1/2 cup fresh strawberry puree
3 TBSP sour cream
Directions
FOR COOKIES
1. Preheat oven to 350 degrees.
2.  In a standing mixer or large bowl cream together butter, oil, 1 cup granulated sugar and powdered sugar for 2 minutes on medium speed.
3.  Add in milk and eggs and mix until well combined.
4.  In a separate medium bowl whisk together baking powder, cream of tartar, salt and flour.
5.  Slowly add in a little flour mixture while beating and mix until just combined.  Do not over beat.
6.  In a small bowl pour in remaining 1/2 cup sugar.
7.  Scoop 2 TBSP of dough into our your hand and form a ball.
8.  Roll dough balls into sugar and place 12 to a cookie sheet.
9.  Using a flat bottomed glass, press down on each ball until they are about 1/4 inch thick.  The edges will become cracked.
10.  Bake for 8 minutes and cool on a cookie wrack.
FOR FROSTING
1.  Cream together butter, powdered sugar and vanilla together until smooth.
2.  Mix in puree and sour cream and mix until well blended.
3.  Frost each cookie with about 1 tablespoon of frosting and chill cookies until ready to serve.
Make sure to check out my other fun and summery posts below!