Remember how I raved about this chicken that my friend cooked us a couple of weekends ago? Well, she shared the recipe with me and I am excited to share it with you. She got it out of Woman's Day magazine, but around here it will be known as Jes's Cranberry Chicken!
I was too lazy to cut my chicken in half horizontally like the original recipe called for so I just adjusted my cooking time accordingly. You probably could get away with using chicken tenders as well. I am telling you, the ingredients may seem really wonky together, but it will make you want to lick your plate…maybe while you are in the kitchen by yourself and no one else is around! And, of course, I altered mine a bit to make a little more sauce.
Cranberry Chicken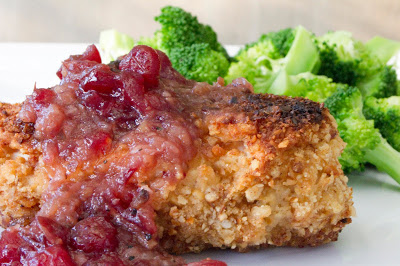 2 cups plain potato chips, crushed
1 cup thin pretzels, crushed
1 cup tortilla chips, crushed
1/2 -1 tsp red pepper flakes, optional
2 large eggs
1 tsp soy sauce
2 boneless, skinless chicken breasts, cut in half horizontally
1/2 cup flour
2 TBSP oil
1 cup chicken broth
2 TBSP cider vinegar
1 small yellow onion, diced
1 tsp grated fresh ginger, or 1/2 tsp powdered ginger
2 cloves garlic, minced
1 3/4 cups canned whole berry cranberry sauce
salt and pepper to taste
Heat oven to 450. Combine crumbs in a shallow dish. In another shallow dish, whisk together eggs and soy sauce. Dredge chicken in flour then place in egg mixture. Dredge in crumb mixture. In a large oven safe skillet over medium high heat, heat the oil until very hot. Add the chicken and cook until they are browned on the bottom, about 2 minutes. Turn the breasts, then place the skillet in the oven. Bake for 8 minutes or until chicken is no longer pink in the middle. Transfer the chicken to a serving dish. Cover to keep warm. Using an oven mitt, return the skillet to the stove top over medium high heat. Add the broth and vinegar, then bring the mixture to a simmer, using a spoon to scrap up any bits stuck to the pan. Add the onion, ginger and garlic and cook until the most of the liquid is mostly evaporated, 4-5 minutes. Add the cranberry sauce and return to a simmer. Season with salt and pepper. Serve the chicken drizzled with the pan sauce.
You all know that I am a fan of "recreating" recipes that I have had while eating out. It dawned on me the other day that I had the tools to make one of my new favorite desserts…Chocolate, Chocolate Cake from a certain bakery that specializes in bunt cakes.
Nothing But A Fabulous
Chocolate Cake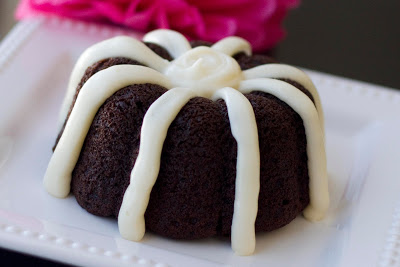 1 Triple Chocolate Fudge Cake mix (I always use Betty Crocker) plus ingredients to make cake as directed on the box
1 small box chocolate pudding
2 tsp vanilla
2 cups mini chocolate chips
This Cream Cheese Frosting recipe plus 2-4 TBSP milk
Preheat oven to 350º. Lightly spray a 6 serving mini bunt pan. *You could also use a large 6 serving muffin pan if you don't have a bunt version.* Mix together cake mix, ingredients for cake, dry pudding mix and vanilla. Add in chocolate chips. Whip together for 1 1/2 minutes. Evenly divide mixture among bunt pan, filling each 2/3 full (or a little bit more if needed…just not completely full.) Bake for 20-25 minutes or until a toothpick inserted into the middle comes out clean. Let cool in pan for 15 minutes and turn out onto a cookie sheet. Let cool completely.
Mix together cream cheese frosting recipe with 2-4 TBSP milk. You want to thin it out a little so it's easier to pipe on the cake. Place frosting in a gallon size baggie and cut off a small corner. Starting from the bottom, pipe frosting up each of the "valleys" of the bunt cake, ending up in the middle. Finish off the cake by piping up the middle, filling it in. I think these cakes are best served cold so chill for 1 hour before serving. Store in an airtight container.