I am hoping that you can still get some late summer asparagus because this dish was delicious…okay…to be honest, when I was eating it I knew that something was missing. It was good, but not as good as I thought it was going to be. As I was cleaning up the kitchen I glanced at the recipe again deciding if I wanted to keep it or not. I saw that I COMPLETELY FORGOT to add the garlic. It is one of the ingredients that totally makes or breaks this recipe. So don't forget it when you are creating this ever so (must have garlic) delicious recipe!
Original recipe found here. I used bacon instead of pancetta and spaghetti instead of fettuccine.
Asparagus and Bacon Pasta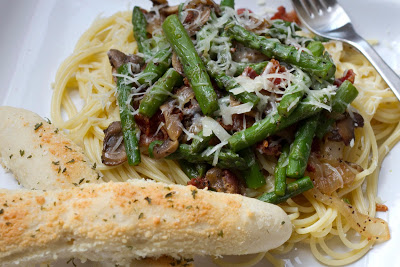 6 pieces of thick cut bacon, largely diced
4 TBSP butter
1-2 clove garlic, Minced
1/2 medium red onion, Diced
1 small container fresh button mushrooms, sliced
1 pound asparagus, washed, trimmed of tough stems and cut into thirds
1/2 lb spaghetti or fettuccine
3/4 cups Parmesan cheese, finely grated
salt and pepper to taste
Cook pasta according to directions. While pasta is cooking, brown cut bacon until lightly crunchy and remove from pan to drain on a paper towel. Remove most of the bacon grease and add butter to the same pan. Over medium high heat saute onions and mushrooms until tender and slightly caramelized about 4 minutes. Add in garlic and stir to not burn. Cook for another minute. Microwave your asparagus in a little water for 2-3 minutes, until al dente. Drain and add to the onions and mushrooms. Once pasta is cooked, drain and toss into pan with vegetables. Stir to coat. Sprinkle with salt and lots of pepper. Top with bacon and cheese.
Also seen in the picture above, I made some delish bread sticks. Original recipe found here.
Bread Sticks
1½ cup warm water
1 TBSP Sugar
1 tsp Salt
1 TBSP dry active yeast
3½ cups flour
½ cups melted butter
1 cup grated Parmesan cheese
garlic salt
Mix together warm water, sugar, salt and yeast. Allow yeast to activate (about 10 minutes). Add flour and stir in with a fork until dough holds together. Turn out onto floured board. Knead lightly into a ball. Divide into 16 equal portions. On floured board, roll out into bread sticks. Dip into melted butter and then into Parmesan cheese. Place onto greased cookie sheet. Sprinkle with garlic salt. Preheat oven to 400 degrees. This gives the bread sticks about 10 minutes to begin to rise. Cook at 400 degrees for 15 minutes.
I was looking for an easy snack to make the other day. I was wanting to make cookies, but only had about half a bag of chocolate chips and a little white chocolate chips. Then I discovered that I didn't have any butter so cookies were out of the questions…but I did have pretzels. I have made these for the last three weekends because I can't get enough. Some with or without the white chocolate.
Chocolate Covered Pretzels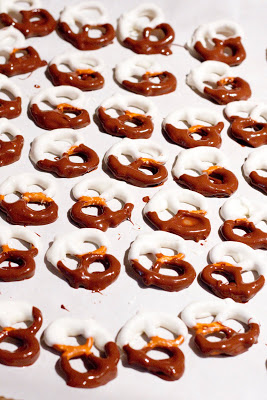 Pretzel Thin Twists
2 cups chocolate chips (I used milk chocolate)
2 cup white chocolate
Cover a cookie sheet with wax or parchment paper. *Tip, while you are melting your chocolate, stick your pan in the freezer so it helps set up the chocolate faster.* In a microwave safe bowl, melt chocolate for about 45 seconds…cooking at 10 second increments. Stir each time. Dip half of the pretzel in chocolate and place on pan. Chill in the fridge for 30 minutes. Melt the white chocolate for about 30 seconds…cooking at 10 second increments. Stir each time. Dip the other half of the pretzel and chill for another 30 minutes until chocolate is set up. Store in an airtight container in the fridge.