I found my new favorite roast recipe. Recently I have seen it on multiple blogs and websites so just in case you've missed it, here you go! Of course I had to make it my own so I added an extra packet. This makes THE best gravy! Pair up with mashed potatoes, veggies of your choice and most definitely some homemade bread or rolls!
Sunday Roast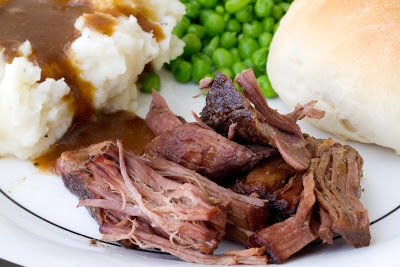 1 (4-6 lb) chuck roast or rump roast
1 packet Brown Gravy mix
1 packet Au Jus mix
1 packet Hidden Valley Ranch Dressing mix
1 packet Good Seasonings Italian Dressing mix
2 cups water
Place roast in crock pot. In a bowl whisk together all 4 packets. Sprinkle mixture over roast. Pour water around the roast and cover with lid. I cooked mine in high for 8 hours, but all crock pots cook differently so make yours accordingly until cooked completely through.
To make gravy…Drain all of the crock pot juices into a medium pan. Bring to a boil. In a small bowl whisk together 2 TBSP cornstarch with 4 TBSP cold water. Once to a boil, slowly pour in cornstarch mixture while whisking briskly. Let it thicken then remove from burner and serve.
Over the late summer I had scored some fresh blueberries for a fantastic price. I bought a few containers and flash froze them so I could use them in delicious recipes like this one. It made it seem so gourmet to me with both the zucchini and blueberries. A great pair up!
Zucchini and Blueberry Bread

1/2 cup oil or applesauce
1/2 cup sugar
3/4 cup brown sugar
1 large egg plus 1 egg white
2 tsp vanilla
1 1/4 cup shredded zucchini (one large or two small zucchini)
1 1/2 cup all purpose flour
1/2 tsp salt
1/2 tsp baking powder
1/4 tsp baking soda
2 tsp ground cinnamon
2 c. fresh blueberries
2 TBSP flour
Preheat oven to 350 degrees and prepare one regular loaf pan or 3 mini loaf pans. In large bowl, combine oil and/or applesauce, sugars, egg and vanilla. Stir to combine well. Stir in zucchini to combine. Add 1 1/2 cups flour, salt, baking powder and soda, cinnamon and fold ingredients until just barely combined. In a separate bowl toss blueberries in 2 TBSP flour. This will help them be evenly distributed throughout your bread. Gently fold in blueberries. Place into loaf pan(s). Place in center of oven to bake until toothpick inserted into center comes out clean, about 60-75 minutes for loaf pan and 35-40 minutes for miniature loaf pans. Let cool in pans for 15 minutes and remove to let cool completely before slicing and serving.
Here are some other yummy dinner recipes…