I was flipping through our family cook book looking for a recipe and I came across this little gem. It's a recipe from my mom that I never remember her making, but it looked great and easy enough that I decided to try it out. It was beyond great…more along the lines of FABULOUS so I called to ask her about it. She had no recollection of the recipe at all and said she probably saw it somewhere and it looked good enough to submit. We had a good laugh about it.
Now that fall is approaching (in Texas that means the temp drops down to 92º) this really will get you in mood for cooler weather.
Hot Fudge Pudding Cake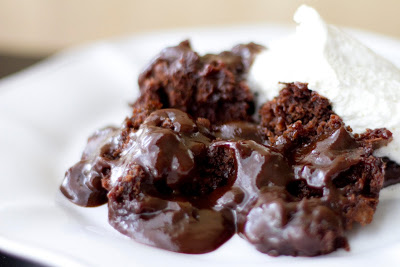 1 1/4 cups sugar, divided
1 cup flour
1/2 cup cocoa, divided
2 tsp baking powder
1/4 tsp salt
1/2 cup milk
1/3 cup butter, melted
1 1/2 tsp vanilla
1/2 cup packed brown sugar
1 1/4 cups hot water
Whipped topping or vanilla ice cream
Preheat oven to 350º. In a medium bowl whisk together 3/4 sugar, 1/4 cup cocoa, flour, baking powder and salt. Stir in milk, butter and vanilla. Combine until smooth. Pour batter into a greased 9 inch square pan or a 6×10 pan. In the same bowl whisk together 1/2 cup sugar, brown sugar and 1/4 cup cocoa. Sprinkle evenly over batter. Pour hot water entirely over the top of the sugar mixture and DO NOT stir into the mixture. When this is cooked the cake will end up at the top and the sauce will be on the bottom. Bake for 35-40 minutes until center is almost set. Remove from oven and let stand 15 minutes. Serve cake and spoon remaining sauce from the bottom of the pan over the top. Top with whipped topping or ice cream.