Pasta, pasta, pasta!  It's such a comforting food.  Whether it's dressed in a garlic cream sauce or smothered in a bolognese, it's just plain good!
Angel hair pasta is my favorite but, when I need a thicker, hearty pasta I crave penne.  The sauce clings to those little tubes and holds up to any type of meats you want to add to it.  That's why I chose to use it in this recipe.
This is one of those WOW recipes!  My husband has requested it for many birthday dinners, but sometimes I like to sneak it in here and there when I "need" a truly comforting pasta dish.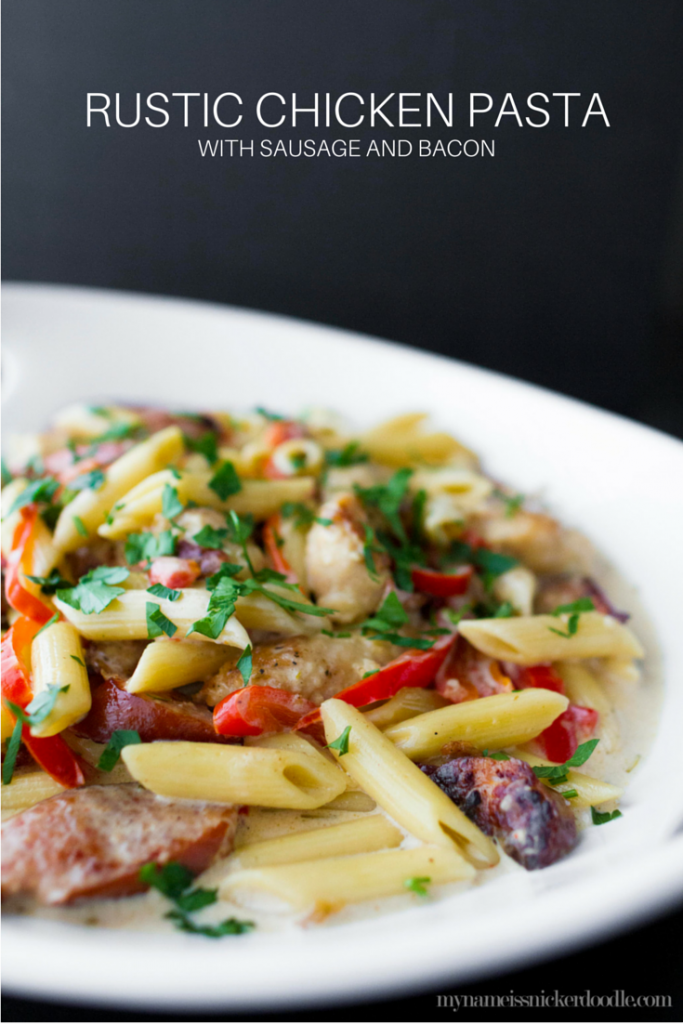 It's got a trio of meats (chicken, bacon and sausage) but can be customizable to your liking.  It's really good with shrimp, too!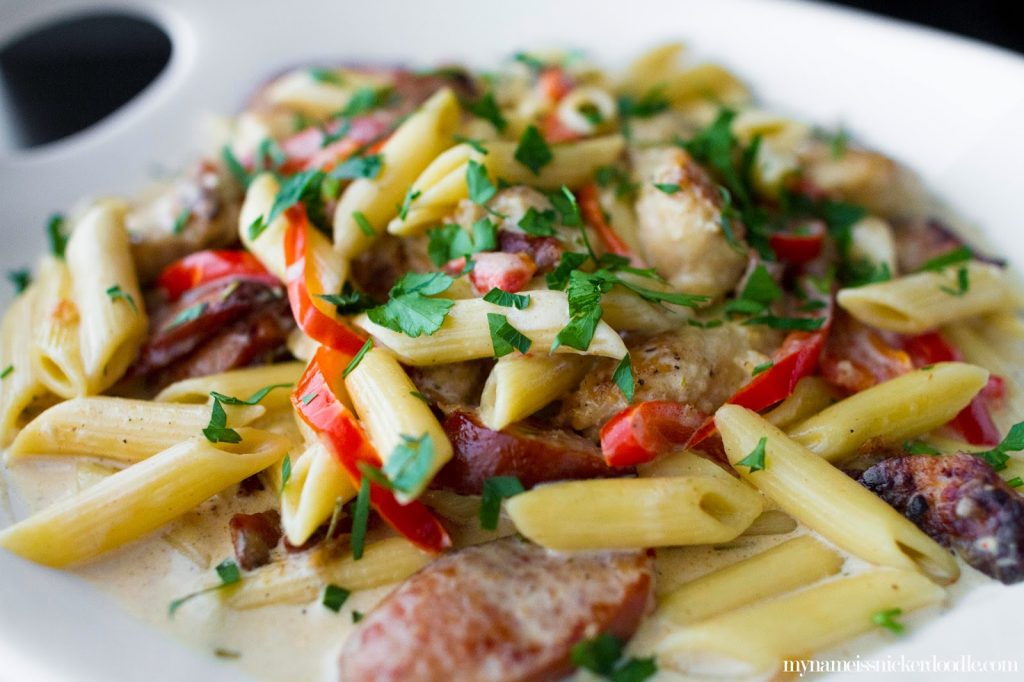 I've even placed the whole thing in a deep baking dish, sprinkled it with a little fresh mozzarella, and placed it under the broiler for a minute or two.  Don't say I didn't warn you that this pasta dish is to DIE FOR!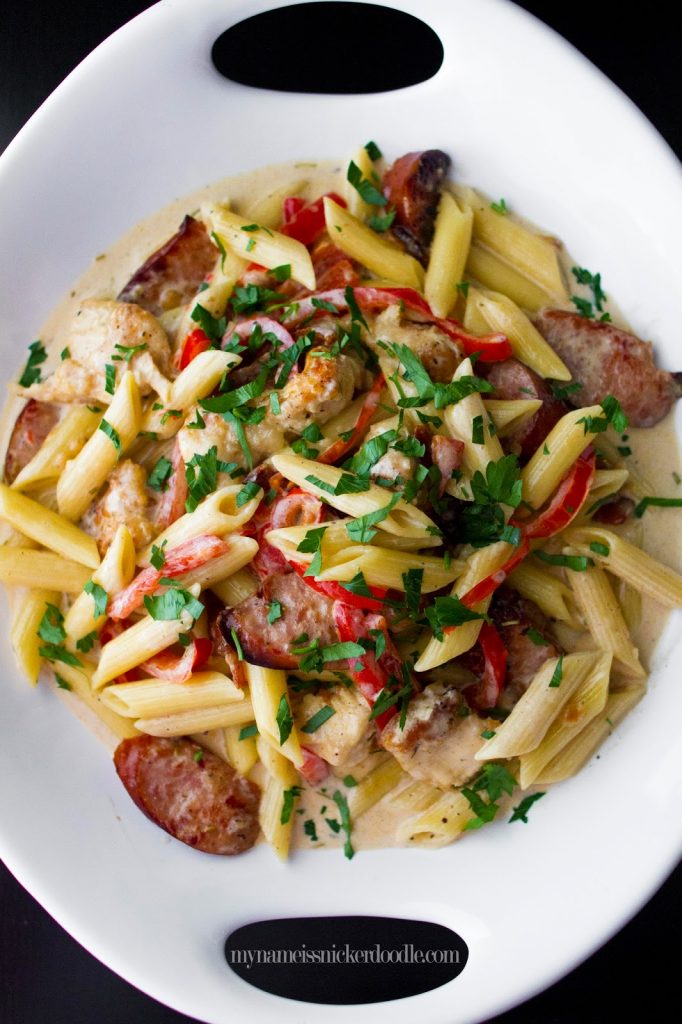 Rustic Chicken Pasta
Printable Version
Serves 6
2 boneless skinless chicken breasts, pounded thin
1/2 a cup of all purpose flour
1 tsp of garlic powder
1/2 tsp pepper
Four strips of thick bacon, cubed
1 lb smoke sausage link, thinly sliced
1 red bell pepper, seeded and thinly sliced
1 TBSP olive oil
2 cloves of garlic, minced
2 cups chicken broth
1/2 tsp rosemary, chopped
1/2 tsp red pepper flakes
2 cups heavy cream
1 cup freshly grated Parmesan cheese
1 lb uncooked penne pasta
salt
Fresh parsley, chopped
Cook pasta according to directions. Drain and set aside. In a medium
bowl mix together flour, garlic powder and pepper. Dredge chicken in
flour mixture and set aside.
In a large saute skillet over medium high heat brown your cut bacon
and sausage until slightly crisp. Once cooked remove to a paper towel
lined plate.
Drain off any excess grease leaving about 1 TBSP in the pan. Place
chicken into hot oil and brown. About 2 minutes on each side or until
cooked through and no longer pink. Remove chicken to a plate and let
rest.
Completely drain off all grease, leaving any bits in the
pan. Add in olive oil and red bell pepper and sauté for 3 minutes over
medium high heat. Add in minced garlic and cook for 30 seconds stirring
constantly.
Pour in chicken broth and scrape up any bits stuck to the pan. Bring
to a boil and cook for 3 minutes. Reduce heat to low and mix in
rosemary, red pepper flakes, cream and Parmesan cheese. Stir until
smooth.  Continue cooking on low until slightly thickened, about 4
minutes.
Thinly slice chicken breasts into strips. Add chicken, bacon,
sausage, and pasta into the sauce. Stir until well coated. Season with
salt if needed. Garnish with chopped parsley.
This recipe was originally posted on
Landeelu
.