I grew up surrounded by family who loved to cook and have some great recipes.  Most family gatherings always involved food.  One party my Aunt Lisa brought a brand new dish and just raved about it.  When she said it was Chicken Apple Salad I remember thinking it was just weird!  Who ever thought to eat chicken and apples together?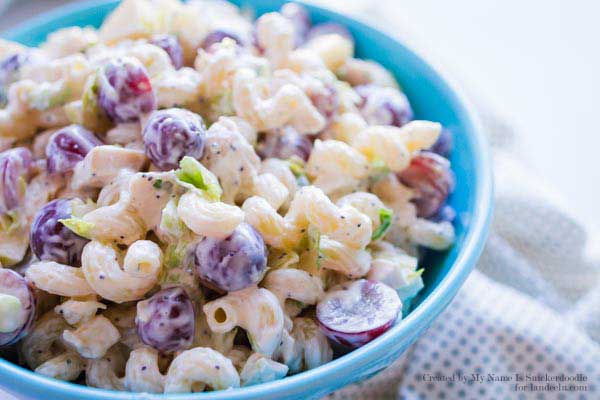 I was only 13 at the time so I know I hadn't experienced much!  I remember my mom giving me that look like "Be polite and take some.".  I did and instantly fell in love with it!  The chicken and apples work really well together.  Plus the grapes and celery give it some great crunch.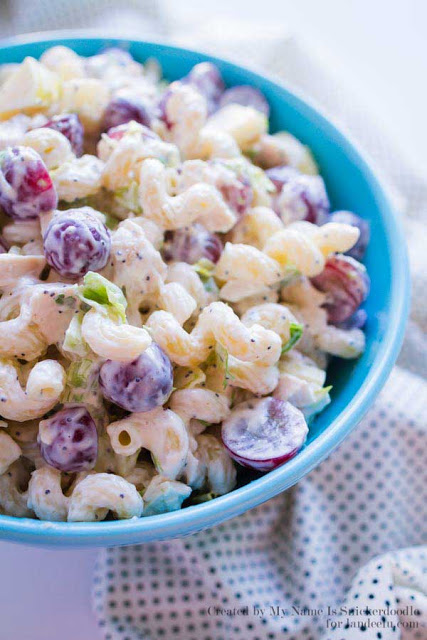 The original salad only had mayo, salt and pepper for the dressing.  I've amped it up a bit, making the dressing a little more tangy and creamy!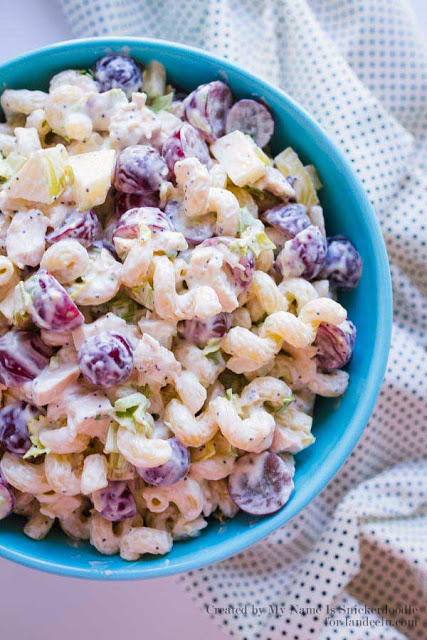 Chicken Apple Pasta Salad
Printable Version
Ingredients
12 oz corkscrew pasta
2 cups red seedless grapes, sliced in half
2 cups cooked chicken, cubed
2 celery ribs, thinly sliced
2 medium granny smith apples,
1 1/2 cups mayonnaise
2 TBSP honey
2 TBSP white vinegar
1/2 tsp salt
1/4 tsp pepper
1/2 tsp poppy seeds
Directions
1.  Cook pasta according to package directions.
2.  Rinse in cold water and drain well.
3.  Core apples and cut into bite size pieces.
4.  In a large bowl mix together pasta, chicken, grapes, celery and apples.
5.  In a small bowl whisk together remaining ingredients and pour over pasta.
6.  Toss until well combined.
7.  Serve immediately.
8.  Store in an airtight container and refrigerate.