The best homemade French Dip Sandwiches are slowly cooked in a crock pot. Super tender beef that is full of rich flavor. Served them with crusty bread that is slightly toasted and buttery. If that's not great on it's own top it with a few slices of cheese then dip every bite into the savory au jus sauce! Hint. It's made at the same time the beef is being cooked!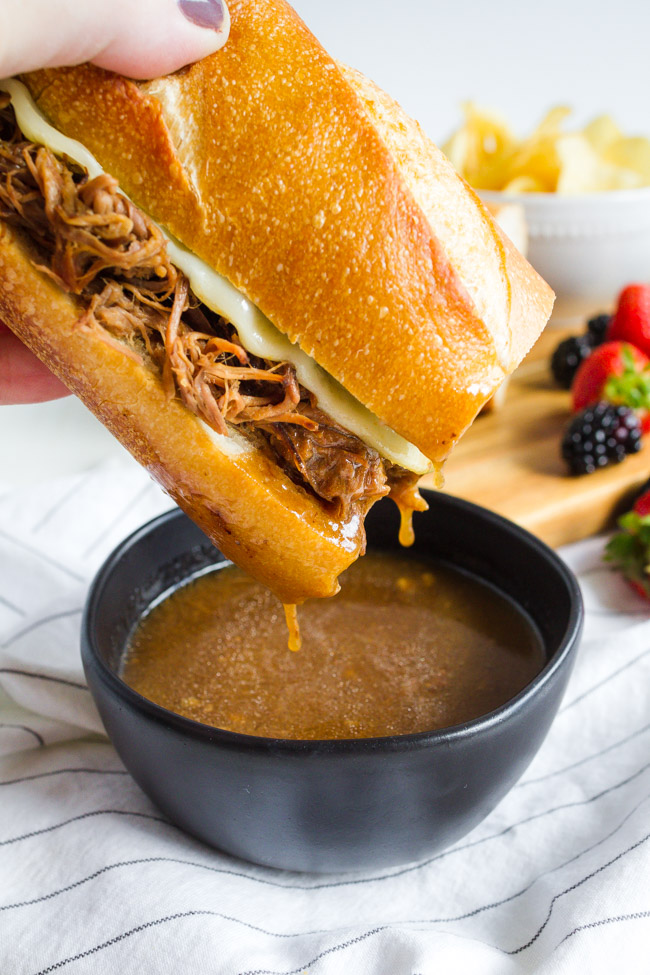 French Dip Sandwich with Au Jus
If there was a sandwich I could eat for the rest of my entire life it would be a French Dip. Have you ever had one? They are classically served on some sort of a hoagie bun or baguette. The crustier the better!
Cheese is another important ingredient for these sandwiches. Sometimes it's quickly set under the broiler to melt the cheese a bit. I find that if you've toasted your bun and your beef is super hot, the cheese will naturally melt on it's own.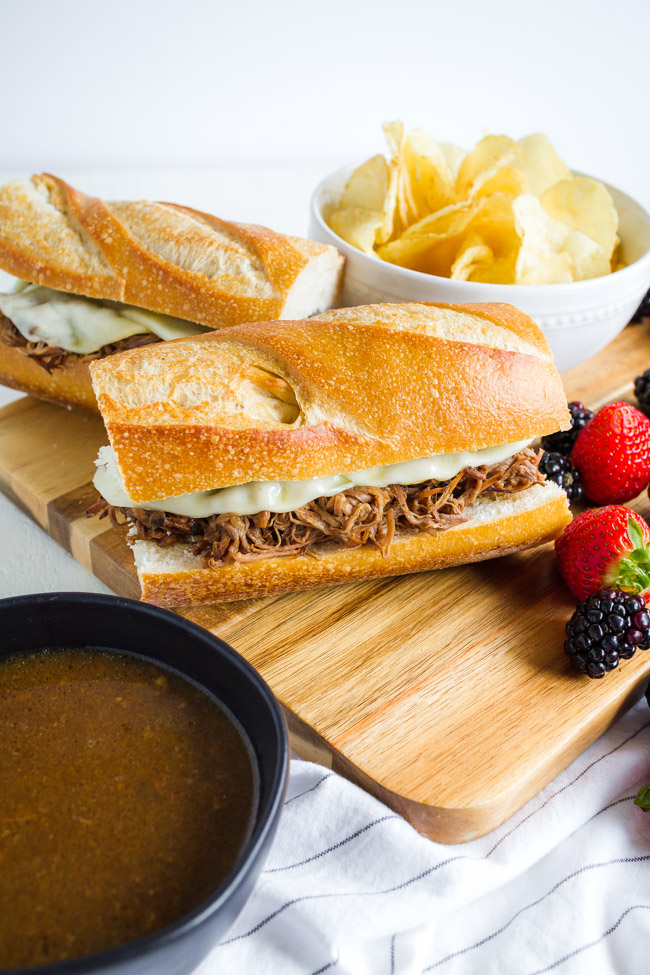 Is Au Jus And Beef Broth The Same Thing?
Before we start talking about the beef for this lunch time favorite, let's discuss the au jus. It's my favorite thing about this entire sandwich.
Au jus and beef broth are not interchangeable. Beef broth is basically beef juices and water. Au jus is beef broth that has been enhanced with spices and herbs. And it's typically a little thicker as well.
This is the reason it's important to have toasty crusty bread that holds all that flavorful beef. If you have soft, fresh bread it's going to get soggy real fast and no one wants that.
The rich au jus adds such a depth of flavor and just keeps me coming back for more. You dip the entire sandwich in it to soak up all it's goodness and then quickly take the bite. This whole process is pretty messy, but it's all worth it.
My recipe below actually makes the au jus sauce at the same time the beef is slow cooking. You won't need to add a single extra thing to make the dipping sauce. Once the beef is done, the entire meal is practically complete.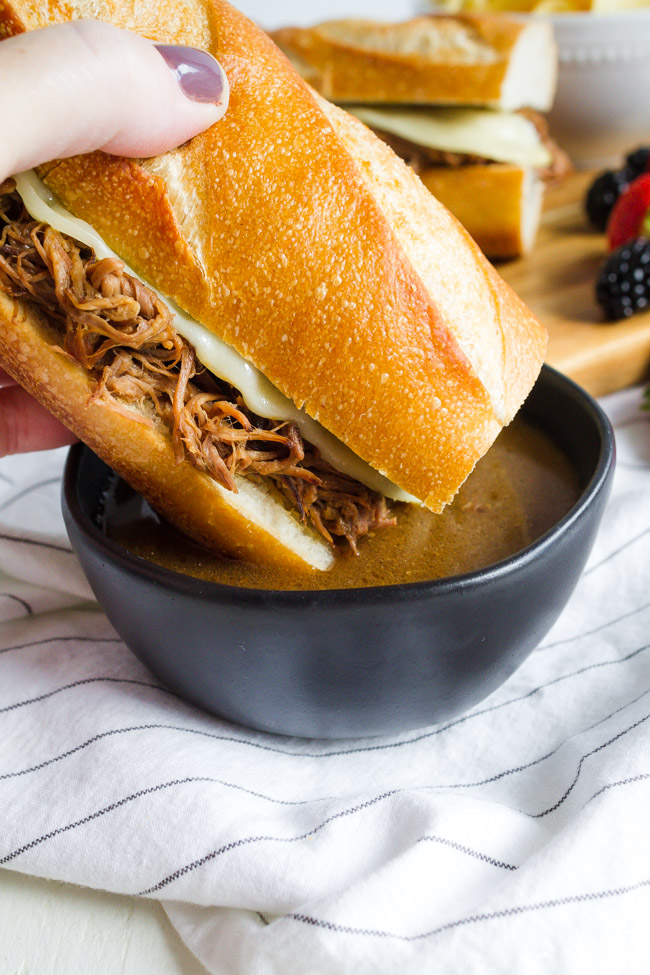 What Meat For French Dip Sandwiches?
This is a pretty important questions when you are making your sandwiches.
The best beef to use is a Chuck Roast or Rump Roast. It a cut of meat that needs to be slowly cooked so it's perfect for this recipe. Once it's cooked it just shreds beautifully and falls apart.
Don't be afraid of the the fat that's marbled throughout the cut of meat. This is going to add flavor and help with the over all tenderness. You will discard most of it because you don't want to bit into that when you're eating your French Dip.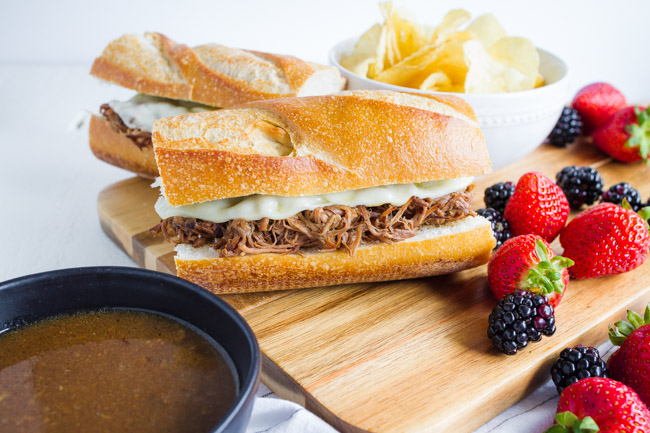 I typically love this for lunch, but can easily be made for a fun weeknight meal.
Let it cook all day long and simply prep your bread about 10 minutes before you're ready to eat. I really like to serve mine with some fresh fruit and simple chips.
A super simple meal that is comforting, tasty and one of the most easiest recipes you can make!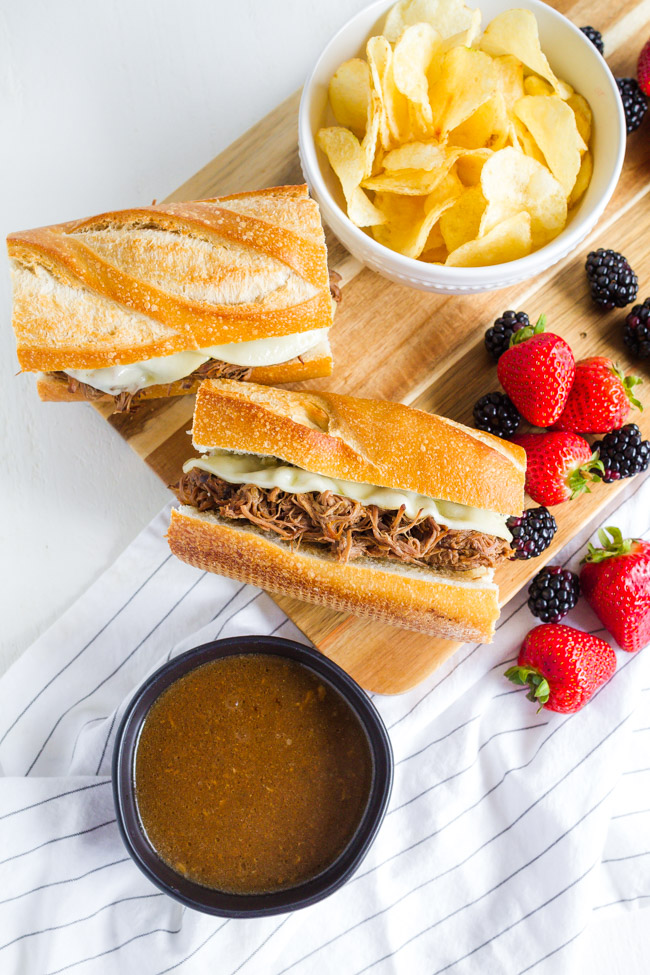 If you need some other easy recipes, I've got you covered!
Are you on social media? Come follow me on Instagram, Pinterest, Facebook and Tik Tok!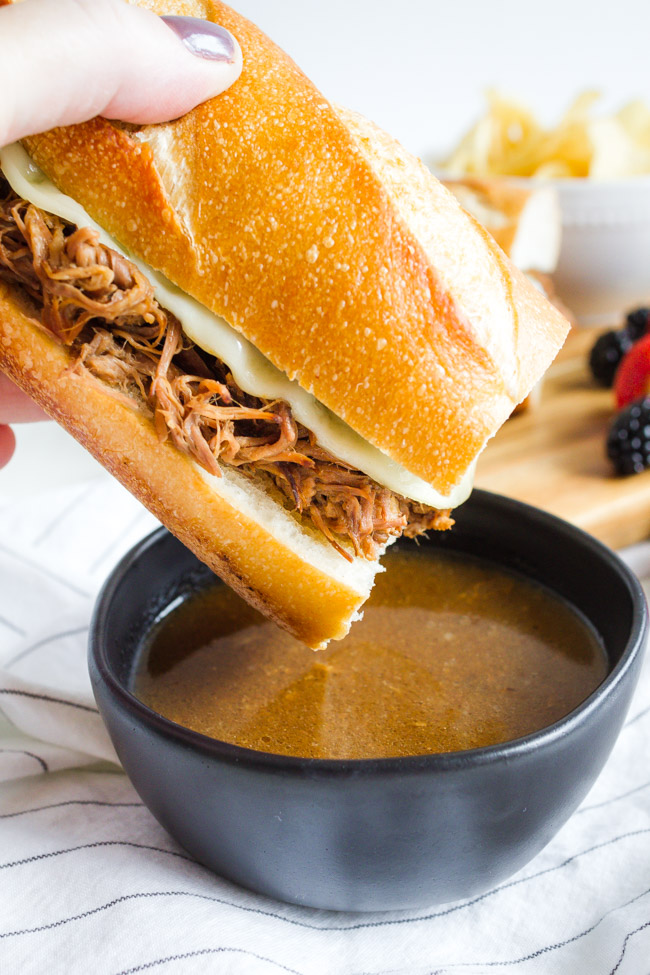 French Dip Sandwich Recipe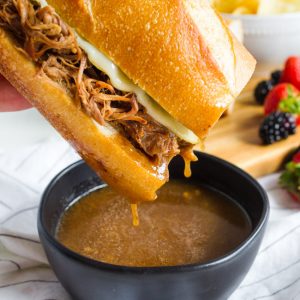 French Dip Sandwiches
This easy French Dip Sandwich is tenderly cooked in the slow cooker.  Super juicy and makes it's own au jus for dipping!
Print
Pin
Ingredients
5-6

lbs

Chuck Beef Roast

1

pkt

Au Jus Mix

1

pkt

Brown Gravy Mix

1

Cup

Water

16

Slices

Provolone Cheese
Instructions
In a small bowl mix together the au jus mix and brown gravy mix.

Place the roast inside the slow cooker crock.

Sprinkle half of the mix over the top and gently rub into the beef.

Flip the roast over, sprinkle with the remaining mix and rub into the beef.

Pour in the water around the sides of the crock.

Cook on low for 8 hours or high for 6 hours.

Remove roast and place on a large plate or cutting board.

Cut away and discard any fat.

Using two forks, pull apart the beef.

Place the shredded beef back into the au jus and keep on warm until ready to serve.

When ready to serve, lightly toast cut baguette slices in a pan over medium heat.

Place a good helping of beef onto the bottom toasted baguette and spread out to the sides with a fork.

Lay two slices of cheese over the beef and then place the top toasted baguette on top, pressing down gently.

Once all beef is removed from the slow cooker you should be left with plenty of au jus broth to serve along side your sandwiches.

Ladle au jus into a small bowl and serve warm with sandwiches.
Nutrition
Serving:
8
servings
|
Calories:
510
kcal
|
Carbohydrates:
50
g
|
Protein:
54
g
|
Fat:
32
g
|
Sodium:
232
mg
SECRET STORY GIVEAWAY
Part 2 of 3
AN INCREDIBLE PERSON