No Knead Artisan Bread is one of the most simple recipes you can make! Similar to my English Muffin Bread recipe, this only has a few simple ingredients and you literally stir it together and let it rise. This has a longer rise time (12-18 hours), but it's totally worth it! I start this the night before and it takes me 5 minutes before I head to bed. It bakes into this beautiful crusty loaf and will bring a smile to everyone in your family!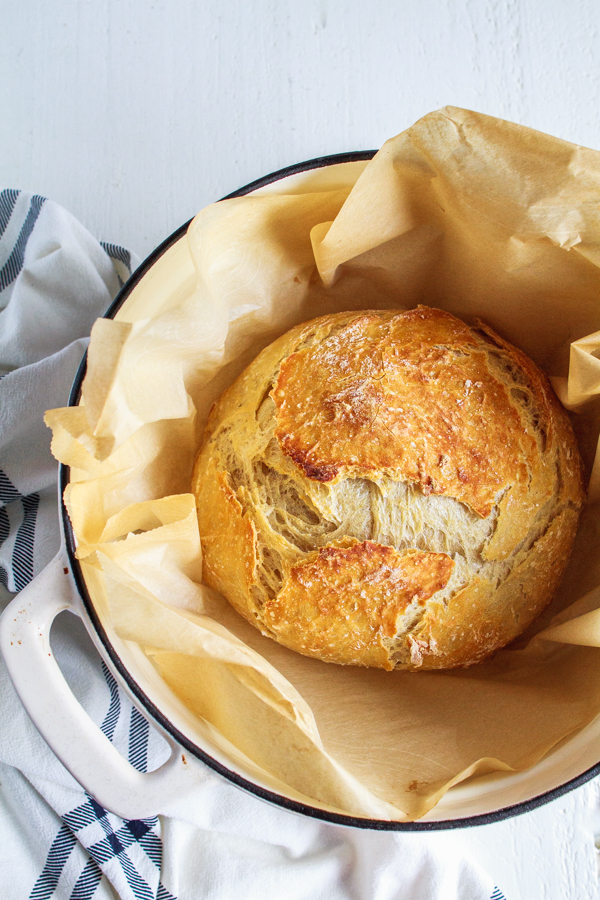 Homemade Bread
I did not grow up eating homemade bread. We were a Wonder Bread (are they even still around?) kind of household and I didn't know any differently until I was in Jr. High School. We were also a Country Crock house and I'll save that opinionated post for another time!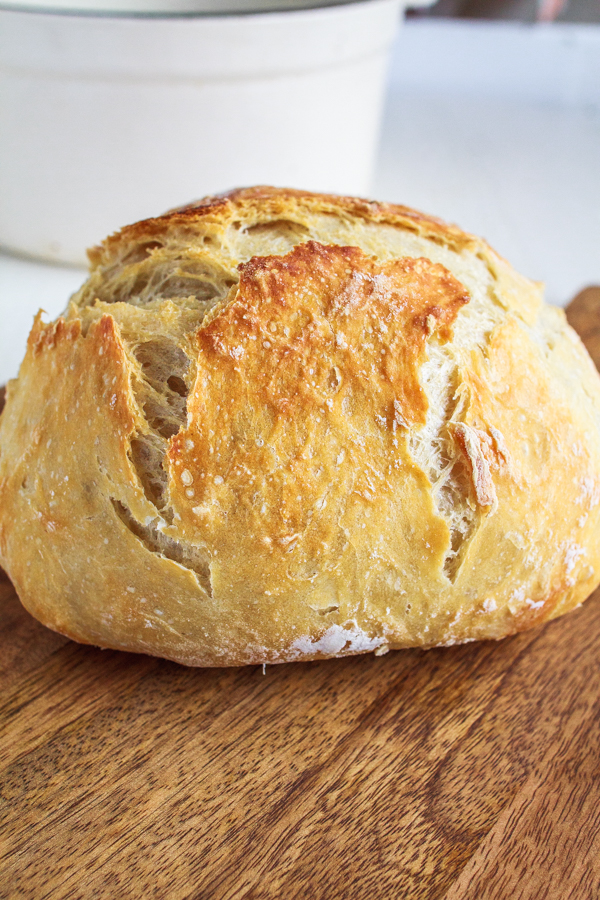 I had met a new friend, Laura, in my science class and found out that we had the same English class as well. She had just moved from Oregon and she seemed really nice. It came up that we attended the same church (which was rare to find in Las Vegas) and had a ton of other things in common.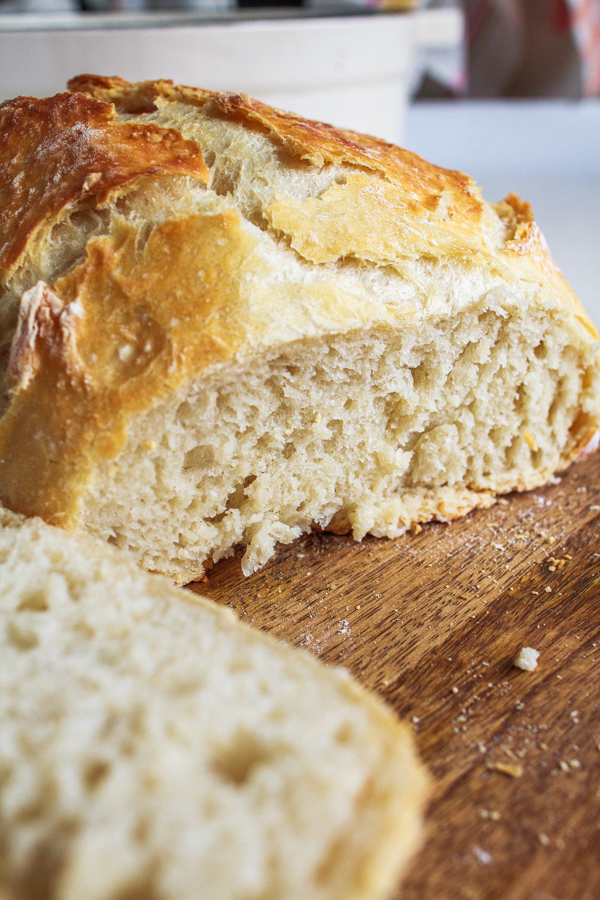 After a few weeks she invited me over to her house for dinner and to meet her family. She had five siblings which, being an only child, seemed liked a full on circus. What I remember the most about that first dinner at her home was the homemade bread her mom made. It was a rectangle loaf with a large hole throughout the middle. It was also the first time I had heard of a bread maker! All I knew that it tasted heavenly. Especially with butter and her homemade strawberry jam.
It wasn't until after I had been married for a few years that I actually learned how to make bread from scratch. I didn't have a bread maker (still don't), but I sure do love the results I get from super simple ingredients.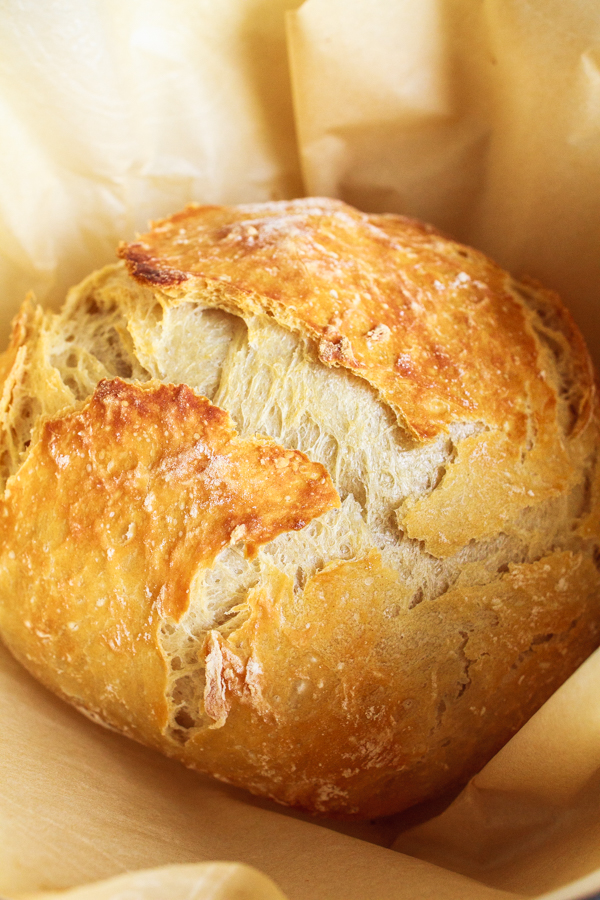 Simple Bread Recipe
I was first introduced to this homemade artisan bread when my friend, Lindsay brought it over after I had major surgery a few years ago. It was one of the most delicious things I had eaten and thought for sure it was store bought.
I've altered the recipe a bit, but it's still one of the most simple things you can make! There is no kneading, rises overnight and bakes into this gorgeous artisan loaf. So easy and better than anything you can find at the grocery store!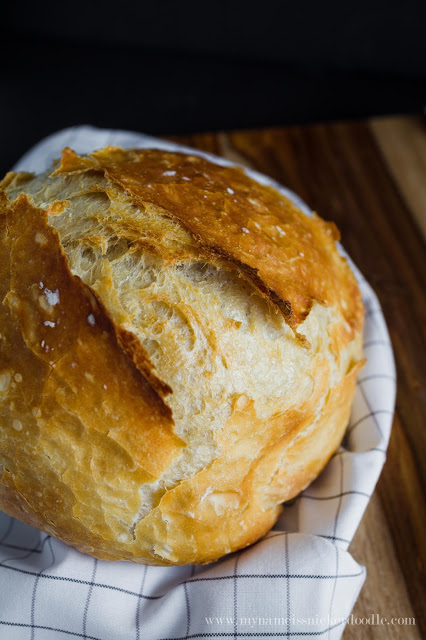 Here are some recipes that would be fabulous along side this bread!
Artisan Bread Recipe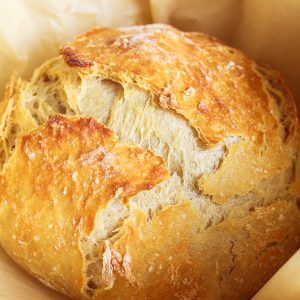 No Knead Artisan Bread
The most simple recipe for the perfect artisan bread loaf! As easy as stirring the ingredients together, letting it rise overnight and baking it.
Print
Pin
Ingredients
3

Cups

All Purpose Flour

1/2

tsp

Active Dry Yeast

1/2

tsp

Granulated Sugar

1 1/2

tsp

Kosher Salt

1 1/2

Cups

Luke Warm Water
Instructions
In a large glass or plastic bowl whisk together flour, yeast, sugar and salt.

Using a wooden spoon or rubber spatula stir in water. Mix just until all the flour is incorporated.

Dough will be stick and shaggy. Scrap down the sides so the dough is all together.

Cover the bowl with plastic wrap then lay a kitchen towel over the top of that to make sure the plastic wrap stays in place.

Place the bowl on the back side of your counter for 12 to 18 hours. Over this time it should double in size.

When you are ready to bake preheat your oven to 450 degrees.

Once it is preheated place a ceramic cast iron pot with the lid on top in the oven and heat for 30 minutes.

While the pot is heating, stir down the dough and turn it out onto a piece of parchment paper. You may need to sprinkle the dough or your hand with a little bit of flour to prevent it be too sticky.

Let it rise on the parchment paper for the 30 minutes while the pot is heating up.

Once the 30 minute heating time is up, take the pot out of the oven, remove lid, and carefully transfer the parchment paper and dough into the pot. It's okay if the parchment paper is touching the sides.

Cover with the lid and bake for 30 minutes.

Remove the lid and bake for another 15 minutes.

Cool the bread on a cooling wrack for 10 minutes before slicing and serving.
*Originally posted in September 2015 and updated April 2020.