Being sick is no fun!  A few years ago I was really sick.  Like in and out of the hospital with major life saving surgeries kind of sick.  Dear family and friends took care of my family by watching my boys, cleaning my house and bringing over meals.  One sweet friend brought over this soup and it was just what I needed that day.  Something warm, comforting and filling.  At the time I wasn't eating much, but that soup sure hit the spot!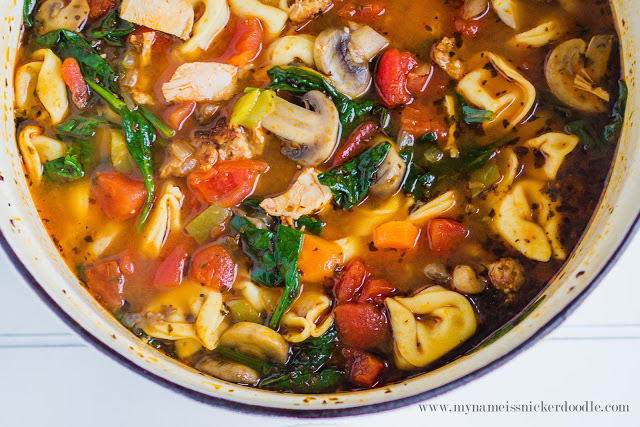 I'm sure alot had to do with the amount of love that went into it and how grateful I was feeling for the love we my family was receiving.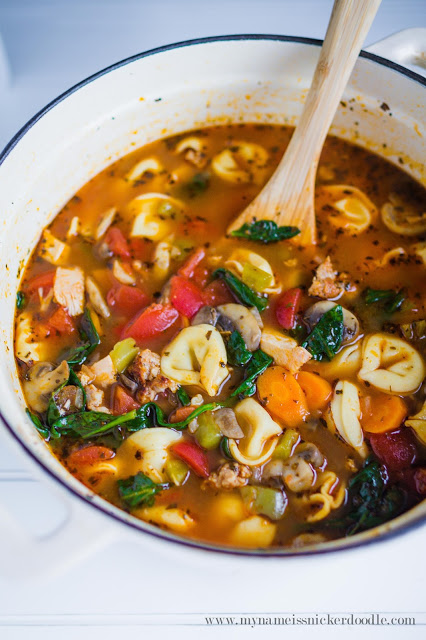 When I was feeling much better I got the recipe from that friend, made a
few adjustments for the ingredients I had on hand and made it.  It was
just as great as I remembered so let's just say it's a pretty fantastic
soup recipe!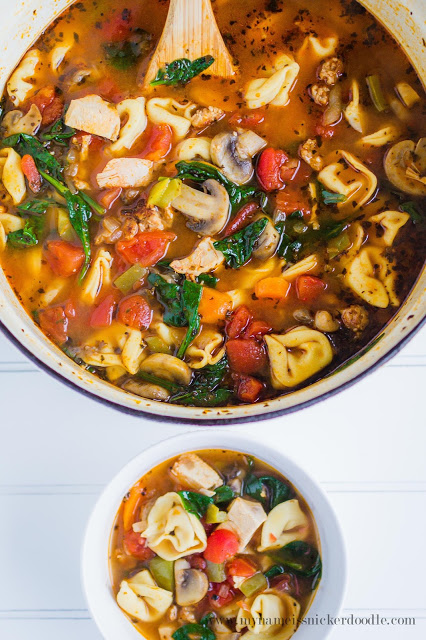 It's super hearty with the tortellini in it, but pretty healthy as well with the amount of veggies in it.  As always, make it to your liking.  Add in vegetables you know your family will love.  You could even add in some chicken or leave out the meat all together.  It truly is a soup that even a man would love.  I know mine does!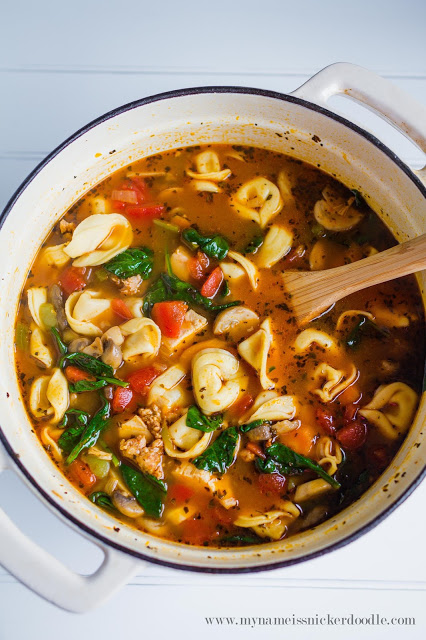 Hearty Tortellini Soup
Printable Version
Ingredients
1 lb Italian sausage, crumbled
1 chicken breast, cubed
1 TBSP olive oil
1 red bell pepper
8 oz. button mushrooms, sliced
1 celery rib, medium sliced
2 large carrots, grated and medium chopped
1/2 medium yellow onion, small diced
1 28 oz can Italian crushed tomatoes
1 49 oz can chicken broth
2 tsp dry basil
1 8oz pkg tortellini
2 cups packed fresh spinach
salt and pepper to taste
Fresh Parmesan cheese, grated
Directions
1.  In a large heavy bottomed pot, brown sausage and chicken together over medium high heat until cooked.
2.  Remove to a paper towel lined plate and reserve oil.
3.  Place 1 TBSP of reserved oil back into the pan and saute bell pepper, carrots, celery and onion together until just tender.  About 4 minutes.
4.  Add in mushrooms and cook another minute.
5.  Pour in crushed tomatoes, chicken broth and basil and bring to a boil.
6.  Reduce heat to medium low and simmer for 20 minutes uncovered.
7.  Stir in sausage, chicken and tortellini and cook according to package directions for tortellini.
8.  Add in spinach and stir until wilted.  About 1 minute.
9.  Season with salt and pepper and serve with grated parmesan cheese.
Serve with this bread!