Yesterday I was updating my February calendar with all of my appointments and events for the month.  With all three kids in school (my youngest just started a little preschool) I now have three Valentines parties to attend and also valentines to prep.  My oldest son's birthday is in a few weeks and we are celebrating our 17th wedding anniversary at the end of the week.  Needless to say we have a lot going on in February.
To try to make actual Valentine's Day a little special for my husband and I, we will be curled up in bed indulging in these Raspberry Cream and Brownie Trifles For Two when the kids go to bed!  I've kind of been into individual desserts lately and this is a perfectly romantic recipe!  You could definitely share one, but when it comes to sweets, sharing just isn't in my nature!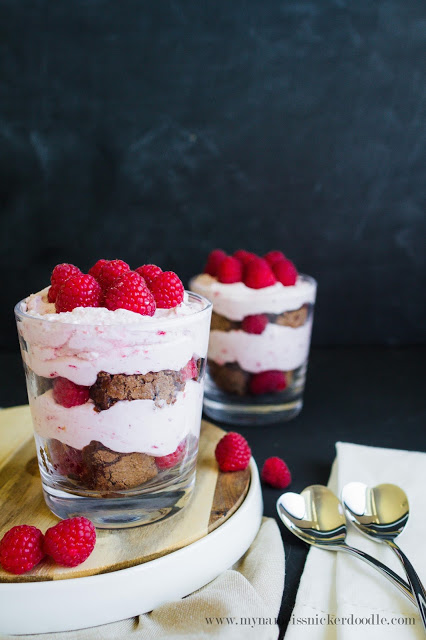 Even though this dessert looks absolutely fabulous, don't let it fool you that it's super sweet.  Both the raspberry and chocolate kind of even each other out and make for the most perfect combination of flavors.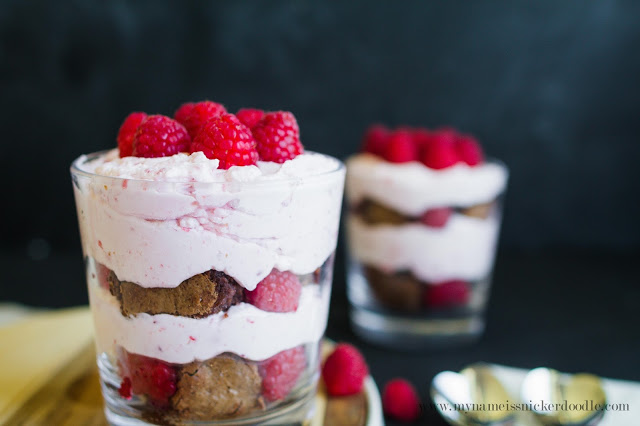 You could certainly double the recipe and make a classic trifle size.  It definitely would wow the crowds and having everyone coming back for seconds.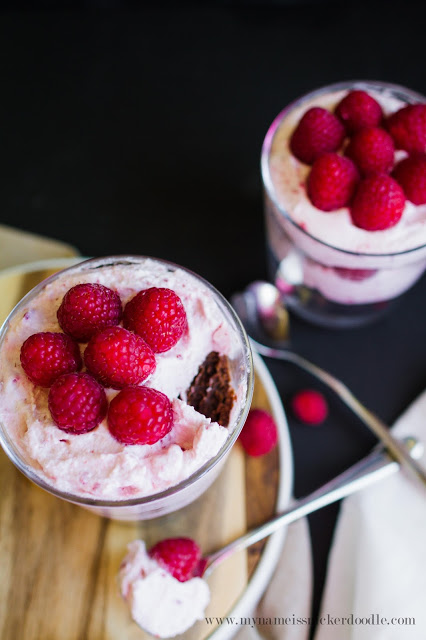 Feel free to use your favorite brownie recipe, box or even store bought ones.  You only need 4 squares total.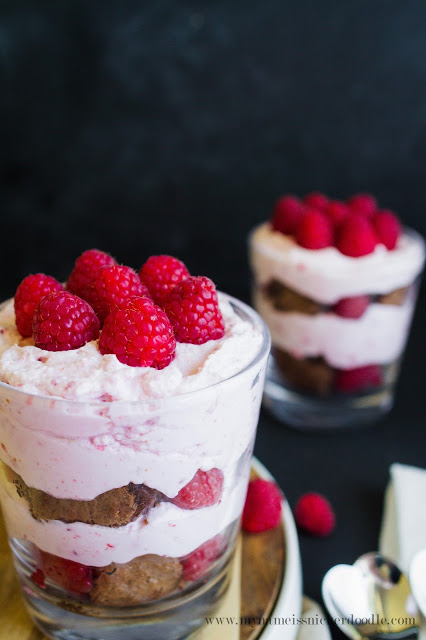 Raspberry Cream and Brownie Trifles For Two
Ingredients
1 1/2 cups whipping cream
1/4 cup granulated sugar
1/2 tsp pure vanilla extract
4 TBSP raspberry preserves
1 pint fresh raspberries
Directions
1.  In a large bowl beat together whipping cream, sugar and vanilla extract on high speed for 2 minutes or until stiff peaks form.
2.  Gently fold in raspberry preserves and mix until just combined.
3.  In two clear tumbler glasses place a few broken pieces of brownie on the bottom along with 4 raspberries.
4.  Place about 1/2 cup raspberry cream on top and repeat with one more layer.
5.  End with raspberry cream on top and garnish with remaining raspberries.
6.  Chill until ready to serve.
7.  It can be made up to two days in advance.  Just make sure to cover it with plastic wrap and store in the refrigerator.