Mashed potatoes and gravy could possibly be my favorite thing…ever! I have made my fair share of mashed potatoes and I think I finally perfected them. Now, these are not low fat by any means. I mean, if you are going to eat mashed potatoes you might as well make it worth your while! If you want low fat, you need to try mashed cauliflower (recipe coming soon) because they are pretty good, too. I never put an extra pat of butter on top, but I was feeling nostalgic because that's what my mom always does with hers.
Mashed Potatoes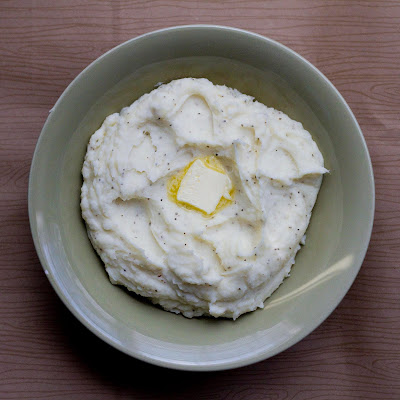 6-8 large baking potatoes (peeled and cubed)
6 TBSP butter (cubed)
1 cup sour cream
1/4-1/3 cup milk or half and half
1 tsp salt
1/2 tsp pepper
Place peeled and cubed potatoes in a large pot. Cover with water until water level is about 2 inches above the potatoes. Bring to a boil and cook for 20-25 minutes or until fork tender. Drain completely and pour into a large bowl. With a standing mixer or hand held mixer, blend in butter, salt and pepper. Once potatoes are smooth gently mix in sour cream. Add milk a little at a time until you get your desired consistency. Serve immediately.