Yesterday I turned 35 years old. I've been celebrating my birthday a little here and a little there for the last three weeks. I truly thought I would have given birth by now so I wanted to get some celebrating in before I was dedicated to loving on my new baby and trying to recover. No deal. He is in there clinging on and just won't drop down…yet! I keep reminding myself that he's got to come out sometime, so just try and be patient. I patiently cry every day wishing it would be the moment I go into labor! I'm rapidly retaining water so I'm trying to keep my feet up as much as possible and downing water by the minute.
So excuse me while I just post yummy pictures from my birthday and me not being in a single one…trust me…I'm not a pretty site!
Saturday night Ian took me to one of my fav restaurants, Carrabbas, where I lived it up with an appetizer AND a fancy drink!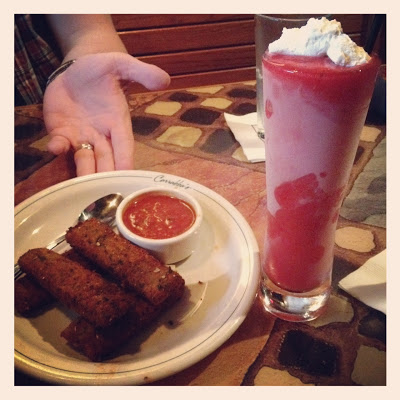 Ian had a lovely seafood dish and I, of course, ordered the filet marsala medium well. I like to save the best for last so I ate all my asparagus and some of my potatoes first before delving into my steak. The first bite was great. The second bite I noticed it was super pink and when I could actually smell the blood, I knew it wasn't cooked medium well. I wasn't bugged, but politely asked the waitress if they could cook it longer. The manager actually brought back another full plate of food with a deliciously medium well cooked steak. To top it off, they comped my meal completely! Happy birthday to me! Well, actually happy bigger tip to the wonderful waitress!
When we got home and I got settled on the couch I notice that my legs, ankles and feet were all about the same size…stumpish! I ended up staying home from church Sunday and just rested with my feet up. The day even got better when I was able to take not one, but two naps! Not an ideal way to spend your birth day, but I so needed it! Ian and his sister arranged for a surprise dinner at her house which I was completely grateful for! The whole family helped me celebrate with a yummy dinner. Ian surprised me with my favorite new cake from la Madeline…Coconut Cream that is to die for!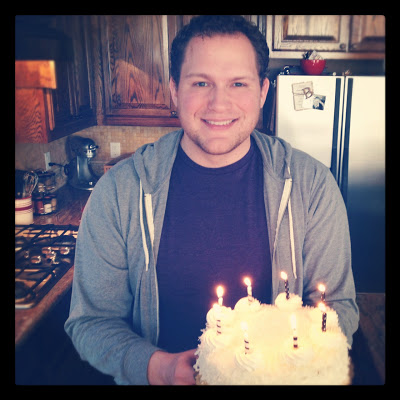 He has been a total dream boat throughout this whole pregnancy and really tried to make my birthday low key, yet fantastic at the same time!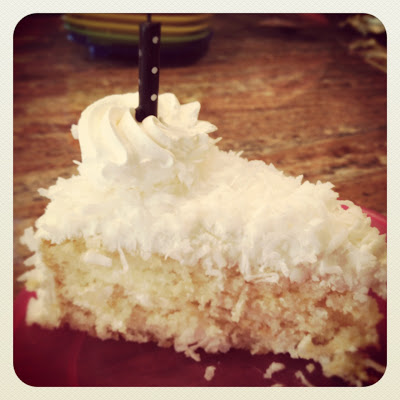 We hung out for a bit, opened some great presents than it was back home for some more sleep! I think my favorite part about the day is when Liam sang his little heart out to me the birthday song.
Today's highlight was putting together one of my birthday presents from my sister in law…GIRL LEGOS!!! I am in love and am not ashamed to admit it!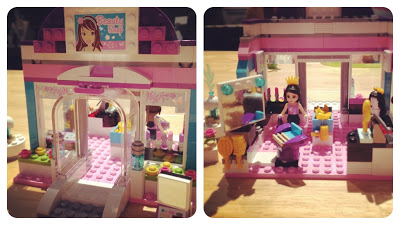 A huge thanks to all my family and friends who shared their love with me on my birthday! I loved all your messages, texts and phone calls!