I've made meatballs in the past and have fail miserably. When I saw this recipe over at Tasty Kitchen, there was just something about it that made me want to give it another try. I am sure glad I did, because they are good. I mean, reeeeeeaaally good! Give them a try and let me know what you think!
Mini Meatballs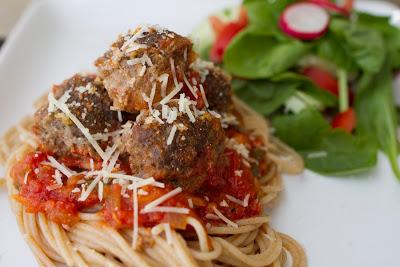 Printable Version
Pin It
1 pound lean ground beef
1 egg
1 TBSP olive oil
1/3 cups grated Romano cheese, plus extra to sprinkle on top
1/4 cup Panko bread crumbs, plus extra to sprinkle on top
2 cloves garlic, minced
1/2 tsp salt
1/4 tsp pepper
1 tsp dried basil
1 tsp dried parsley
2 cups of your favorite marinara sauce
Preheat oven to 400°. In a large bowl whisk together egg and oil. Add in beef, cheese, bread crumbs, garlic, salt, pepper and herbs. Mix until just combined. Place 2 cups of sauce into an 8×8 baking dish. Roll mixture into 1 inch balls, about 1 tablespoon of mixture. Place into baking dish. Once all are rolled, sprinkle with extra cheese and Panko crumbs. Bake for 20-25 minutes, until meatballs are browned nicely and sauce is bubbly. Serve over noodle with more sauce.