During the summers of my childhood we would drive to Utah and spend some time with my mom's side of the family. I remember one summer I got to spend some one on one time with my grandma. Now, she wasn't your typical grandma who had a basket of yarn she was knitting with or take you to the park just to play. She would make you work. Sounds awful, right? It wasn't all that bad. She was just alone most of the year and would need help with little projects here and there. She was a woman with many projects on here plate. She's almost 90 and still is going all the time!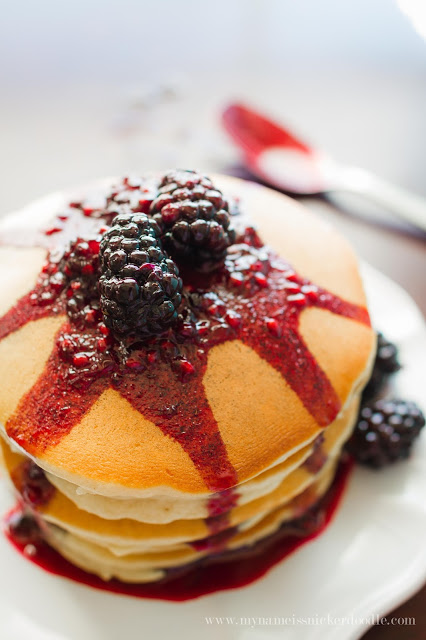 One day she brought me to the side of her house where none of us grandkids ever played. It was really over grown with vines and the gate to the front yard was close by so we really weren't allowed to play ever there anyways. I remember feeling grown up because she gave me permission to be there. She overturned one of the vines and there it was. I beautiful ripe raspberry! It was then that I saw the over gown vine as something magical. She handed me a small bucket and told me to only pick the dark pink ones. As she walked away, she turned and told me not to eat any. I was old enough to see the twinkle in her eye and the small smile spread across her lips when she said that.
I remember bringing in the bucket and hearing the few raspberries that actually made it in roll around. I also remember having a slight stomach ache because I ate so many of those delicious berries!
Even though this recipe is made with blackberries it reminds me of that summer with my grandma. It can easily be substituted with raspberries!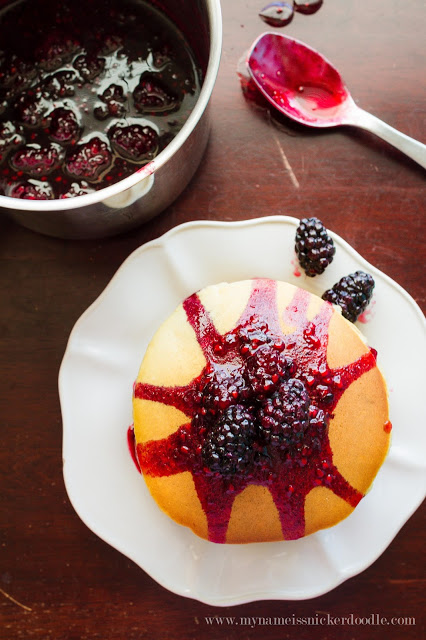 Blackberry Vanilla Sauce
Printable Version
Ingredients
12 oz blackberries, fresh or frozen
1/2 cup granulated sugar
1/2 cup water
1 tsp pure vanilla extract
Directions
1. Place blackberries, sugar and water in a medium sauce pan over medium high heat.
2. With the back of a wooden spoon, mash some of the blackberries. Leave some whole.
3. Bring to a boil.
4. Boil for 2 minutes, stirring constantly.
5. Turn down to medium low heat and simmer for another 3 minutes or until sauce has thickened slightly.
6. Remove from heat and stir in vanilla extract.
7. Serve hot over pancakes or cold over ice cream!
* Refrigerate leftovers and store in an airtight container once it's cooled completely. Will stay for up to 1-2 weeks.
This would be great spooned over these Buttermilk Pancakes!