I've got this obsession with berries lately.  I don't know what it is, but I can't get enough!  This year it seems like they are extra sweet.  I was set and determined to go blackberry picking after we went strawberry picking.  However my middle son broke his leg and all three of my boys got sick shortly after that.  Time just got away from us.  Next year, right?
Meanwhile, I've been enjoying buying carton after carton of blueberries!  They have been extra sweet this year.  It's sparked quite a few recipes and most of them start with this Simple Blueberry Syrup.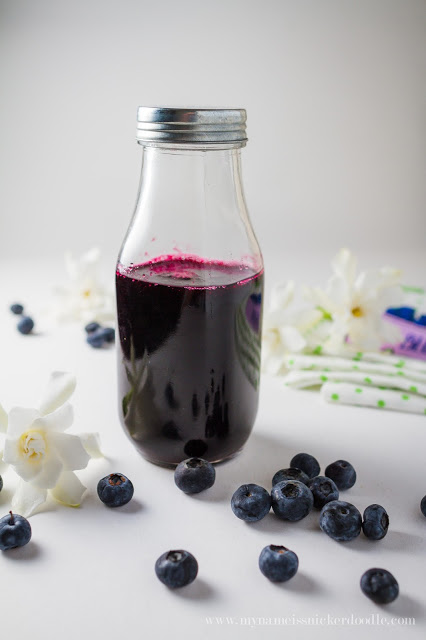 It only takes three ingredients and tastes divine!  The recipe below is for adding it to other ingredients to make drinks and desserts, but you could boil it longer (about 5 more minutes) to thicken it for a syrup for pancakes, crepes or waffles!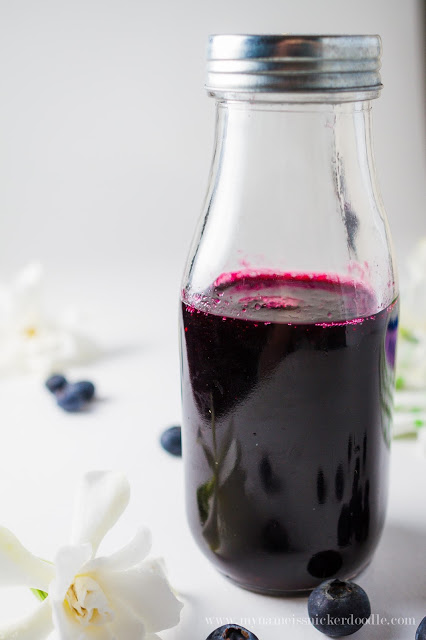 Blueberry Simple Syrup
Printable Version
Ingredients
12 oz. (or two cups) fresh blueberries
1 cup granulated sugar
1 cup cold water
Directions
1.  Place all the ingredients in a medium sauce pan and place over medium high heat.
2.  Bring to a boil.
3.  With the back of a wooden spoon, smash the blueberries.
4.  Boil for 3 minutes, stirring constantly.
5.  Reduce heat to low and simmer for 3 minutes.
6.  Remove pan from heat and allow to cool for 20 minutes in the pan.
7.  Strain the syrup through a fine mesh strainer, using a spoon to push it through.
8.  Discard the remaining skins.
9.  Store in an air tight container and chill in the refrigerator for up to 2 weeks.