Chicken salad sandwiches are basically what I think the perfect lunch is.  Served with some fruit and maybe some chips and I am set!
I used to make chicken salad with just a little mayo, salt, pepper and a little celery.  Not too bad, but when I discovered the Sonoma Chicken Salad recipe online, I knew it was going to be my new favorite go to!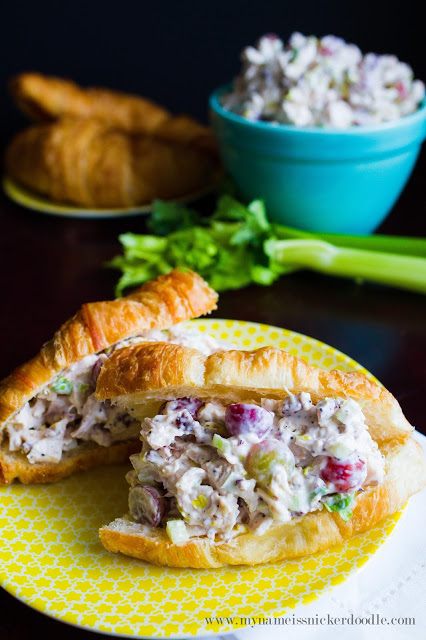 You could easily serve this over a spinach and spring greens mix.  You can also sandwich it in between two healthy pieces of whole grain bread, add a little dijon mustard and maybe a little provolone cheese.  I prefer the classic method of a soft and buttery croissant!
Sonoma Chicken Salad
Printable Version
Serves 4
Adapted from Whole Foods
Ingredients
3 cups cooked and shredded chicken*
2 cups red grapes, halved
1 cup celery, diced* (about 3 stalks)
2 oz (about 3/4 cup) chopped pecan pieces
2 tsp sugar
For Dressing:
1 1/2 cups mayonnaise or Greek yogurt
1 TBSP honey
1 TBSP apple cider vinegar
1 TBSP lemon juice, freshly squeezed
1/2 tsp flaky sea salt
1/2 tsp pepper, freshly cracked
2 tsp poppy seeds
Directions
1.  Combine chicken, grapes and celery in a large bowl and set aside.
2.  Combine pecan pieces and sugar in a dry medium skillet over medium high heat.
3.  Cook for about 3-5 minutes, stirring constantly.  This will help toast and sugar coat the pecans.
4.  Place pecans onto a paper towel or plate and cool for about 5 minutes.
5.  Add pecans to the chicken mixture.
6.  In a separate medium bowl mix together dressing ingredients.
7.  Toss dressing mixture with chicken mixture until well combined.  Check for seasoning.
8.  Chill chicken salad 1 hour before serving.  Store in an airtight container in the refrigerator for up to 5 days.
*  I really like to use a rotisserie chicken with this recipe.  It's super tasty and very easy to use!
*  I like to use the center stalks for this recipe.  They are more tender and not as "stringy" as the outside stalks.  I include chopping up the leaves and all.  They add some pretty great flavor!