I'm finally in the mood to eat again! This pregnancy has been rough on my stomach, but I am pulling through and finally gaining a little weight. And with my renewed fondness of eating comes all of the cooking to go along with it. I pulled this recipe from my just delish on Pinterest. Annie's site if full of fabulous recipe and this tops the charts! I only changed a few things (omitting the rosemary because I had none, and adding olive oil) because I knew this recipe would be perfection!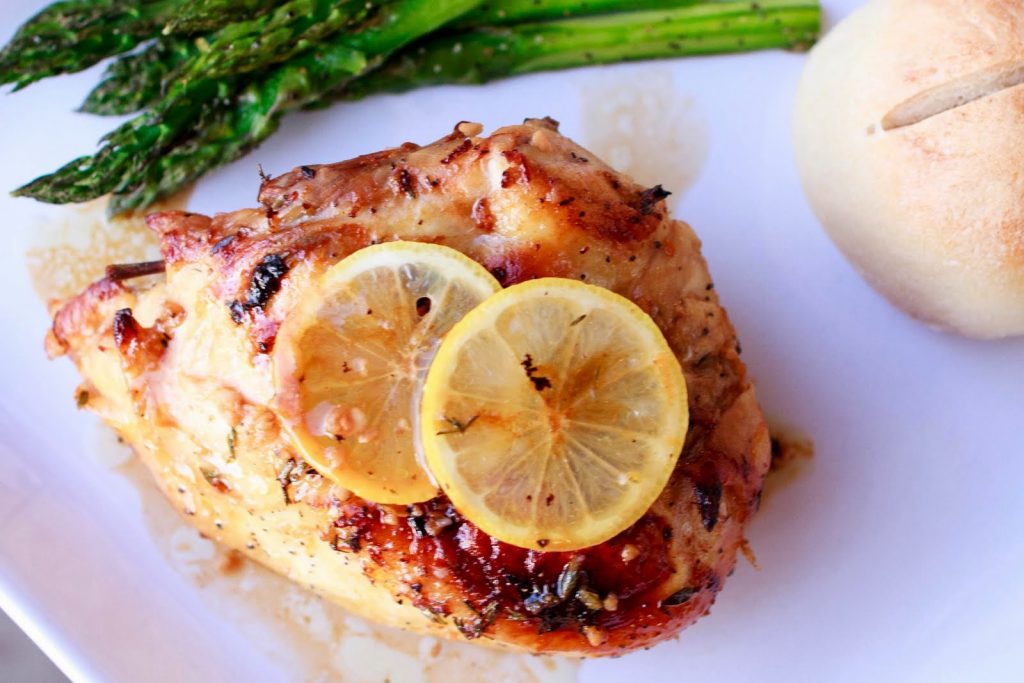 Lemon Chicken
Printable Version


Serves 4
2 TBSP lemon zest
1/3 cup freshly squeezed lemon juice
2 cloves garlic, crushed
2 tsp fresh thyme leaves
2 TBSP olive oil
1 tsp salt
1 tsp black pepper
4 bone-in, skin-on chicken breasts (or 2-4 lbs thighs or drumsticks skin on)
2-3 tbsp. melted butter
Thinly sliced lemons, for garnish
Combine the lemon zest, lemon juice, garlic, thyme, olive oil, salt and pepper in a large zipper-lock plastic bag. Seal the bag and shake well to blend. Place the chicken breasts in the bag with the marinade, pressing out excess air and sealing once more. Place bag in a large bowl (to prevent any dripping) and refrigerate to let marinate for 2 hours.
Preheat the oven to 425˚ F. Remove the chicken breasts from the marinade and transfer to a baking dish, skin-side up, reserving the leftover marinade. Brush the top of each piece of chicken with melted butter.
Bake for 20 minutes, then pour the remaining marinade over the chicken breasts in the baking dish. Bake for another 35 minutes until the skin is nicely golden and crispy and chicken if fully cooked. Remove from oven and baste the chicken with juices. Cover loosely with foil and let rest 10 minutes before serving. Plate, garnish with lemon slices and serve.