As you know I am all for knock off restaurant recipes. I was excited when I found this one because Bajio's was one of Ian's favorite restaurants when we lived in Utah. The very first bite proved that this tasted vaguely like the real version. HOWEVER, it was very delicious reguardless!!! So I renamed it as to not confuse any of my readers. If you like to load up your tortilla as much as I do so you can't fold it up, then call it a taco. If you put a little less, fold in the sides and roll it up call it a burrito. If you want to forgo the tortilla all together (which I think is sad) put a little more lettuce in a bowl and call it a salad! It's super versatile.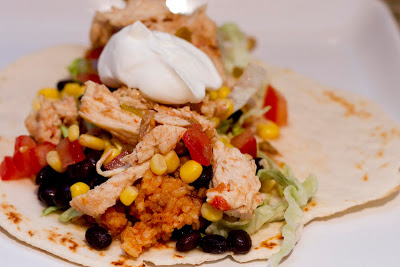 Sweet Chicken Soft Tacos, Burritos, or Salad
Chicken
4-5 Chicken Breasts
1/2 cup salsa (your favorite)
1 TBSP Cumin
2 tsp Chili Powder
1/2 cup Brown Sugar
1 (4oz) can diced green chilies
1 1/2 cups Sprite
Toppings
canned black beans, drained and rinsed
canned corn
2 diced tomatoes
Shredded lettuce
sour cream
shredded cheddar or Monterrey jack cheese
guacamole (not pictured)
Spanish rice (homemade version coming soon)
Place your chicken into a slow cooker. In a medium bowl combine salsa, cumin, chili powder, brown sugar, green chilies and Sprite. Pour over chicken and cook on low for 6 hours. Shred chicken in crock pot. If your chicken is not completely cooked through at this point, cook for another hour. Serve with flour tortillas (new homemade version coming soon).