I haven't taken pictures of anything super recently so here are some "old" ones that were in my files…
I don't know if these are considered patriotic, but they would be a fun addition to your Independence celebrations this weekend!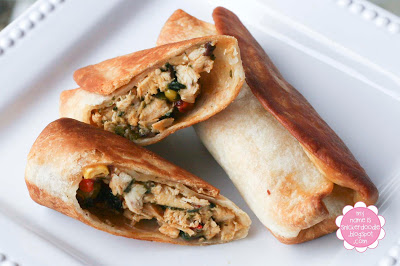 Southwestern Egg Rolls
2 chicken breast, cooked and shredded
2 TBSP vegetable oil
1 small red bell pepper, minced
4 green onions, minced
1 cup frozen corn, thawed
2 tsp cumin
1 1/2 tsp chili powder
1/2 cup canned black beans, drained and rinsed
4 TBSP frozen spinach, thawed and liquid squeezed out
2 TBSP minced canned jalapeno peppers
1 TBSP parsley
1 tsp salt
dash of cayenne pepper
1 1/2-2 cups Monterey Jack cheese
10 small flour tortillas
oil for frying
Preheat 2 TBSP oil in a medium pan over medium high heat. Saute red pepper and onion for a couple of minutes until tender. Add chicken, corn, beans, spinach, jalapeno peppers, parsley, cumin, chili powder, salt and cayenne pepper. Stir together and cook for about 4 minutes or until heated through. Remove pan from heat and add in cheese. Wrap tortillas in a damp towl and heat in the microwave for 30-60 seconds until flexible. Divide mixture between the tortillas. Fold in the ends and then roll up tight. Secure with a toothpick until you are ready to cook. Heat up oil in a deep frying pan on medium high heat. Using tongs, place egg roll (without toothpick) seam side down and hold in place for a few seconds so it won't come unwrapped. Cook 2-3 egg rolls at a time…about 2 minutes on each side…until golden brown and mixture is heated through and cheese is melted. Drain on a paper towel and cool slightly. When ready to serve, slice on the diagonal and serve with ranch dip.
**These can be baked if you are a not a fry person. Just place them on a foil lined cookie sheet and bake at 375º for 30-40 minutes, until golden brown. Flip them halfway through the cooking process.