Since we got our grill I have been cooking up a storm. More in efforts to try to keep my kitchen cooler in this 99° weather, but we have been reaping the edible benefits for sure. This recipe does work well if you don't have a grill (I make it all the time in the winter and just bake my chicken), but definitely tastes much better coming from the BBQ.
Super BBQ Chicken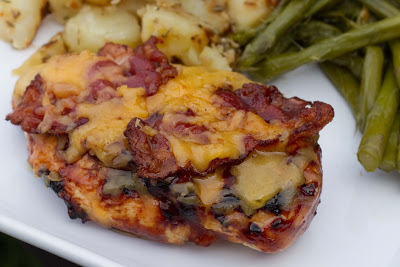 1 skinless/boneless chicken breast per person
Your favorite BBQ sauce (ours is KC Masterpiece Original)
2 slices of bacon*, cooked and drained, per chicken breast
About 1/2 cup shredded cheddar cheese per chicken breast…or your favorite cheese
Tip for the perfect grilled chicken…
Place on medium high heat grill "skin" side down. Set the timer for 4-5 minutes (depending on how thick your chicken breast is) and leave it alone. Then flip to the other side and cook another 4-5 minutes. Chicken should be cooked through so check before serving. Once you turn your chicken over the first time, baste the cooked side with bbq sauce. Once your second round of 4-5 minutes are up, turn your chicken over and baste that side with bbq sauce. **Always make sure your are not basting raw chicken and then using the same sauce so baste your cooked chicken. Turn your chicken so it is "skin" side up and top with cheese and bacon. Close the lid and turn off your heat. Heat until cheese is melted about 2 minutes. Serve.