I found this recipe off of the Martha Stewart site and fell in love. I altered it because of some extra ingredients that I had on hand so feel free to do the same (omit the mushrooms if you like). Ever since watching Jamie Oliver's Food Revolution, I have tried to cook just a little better. At least, tweak some of our regular dishes with more fresh ingredients instead of using canned or prepackaged items. This dish is simply so easy you cannot not make it. Plus it took less than 20 minutes to make.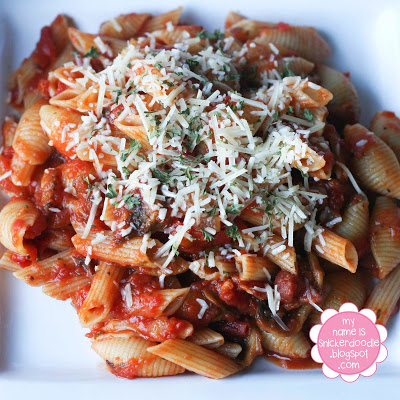 Pasta with Bacon, Mushroom Tomato Sauce
1 TBSP extra virgin olive oil
4-6 slices bacon, cut into 1/2″ pieces
1 medium red or yellow onion, diced
1 cup fresh mushrooms, sliced
2 garlic cloves, minced
1/2 tsp red pepper flakes
1 28 oz can crushed tomatoes
1/2 tsp dried oregano
1/2 tsp dried basil
salt and pepper
1 lb rigatoni, shell, or orecchiette pasta
grated Parmesan cheese
In a medium sauce pan, heat oil over medium high heat. Add in bacon and onions. Cook until almost crisp and onions are tender, about 3-4 minutes. Add in mushrooms and cook for another minute. Toss in garlic and red pepper flakes and cook for another minute, stirring constantly so not to burn the garlic. Add tomatoes and season with salt, pepper, oregano and basil. Bring to a boil and reduce to a simmer. Cook until slightly reduced, about 15 minutes. While sauce is simmering, boil pasta according to package directions with one minute less than called for. Once pasta is cooked, reserve 1 cup of pasta water and drain pasta. Add the reserved water to the sauce and toss in pasta to desired "sauciness". Serve with cheese.
This really isn't a dessert, but a very refreshing treat indeed! Ian's older brother and his wife introduced this to us over three years ago and we have been doing it ever since.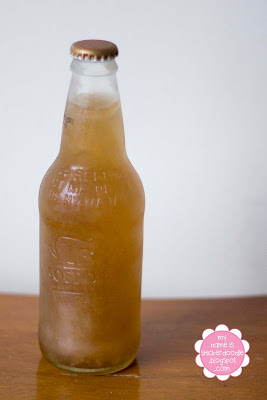 Soda Slush
Any glass bottled soda…Root Beer, Cream Soda, Strawberry Crush…you get the idea.
The best results is if your bottles have already been in the fridge over night. Place bottle in the freezer and chill for exactly 41 minutes. IT'S CRUCIAL that you set your kitchen timer…you will not want to forget that you put it in the freezer! If your bottles are not previously chilled, place in the freezer for 58 minutes. Call me crazy, but these times work for us. You might need to adjust according to your freezer's "freezerness". To be honest, this picture shows that I left the bottle in the freezer a little too long. The most important part is when you pop the lid, you will see the icicles start creeping down the middle of the soda. So cool!