Little miss (fabulous) Tricia requested some more appetizer-ish recipes so here you go. By the sound of it (an the look from her great blog) she likes to party! Well, have wonderful parties with her closest friends and every good party must have good food!
These are my go-to appetizers when I need to make something in a pinch. My bestest friend, Julie introduced these to me years and years ago and of course they have morphed over time. Like adding parsely for a little green color…every time someone has had these for the first time and I don't tell them what they are, they think they are buttery cookies and are a little shocked at the taste! Little does everyone know who has had these, I have eaten half of them before I even plate them up. Extremely good and addicting!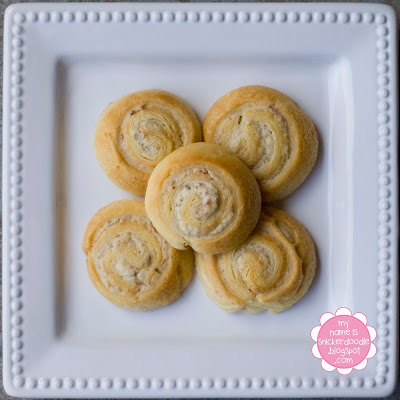 Bacon Pinwheels
2 tubes crescent rolls
1 8 oz. cream cheese, softened
1 bottle of "real" bacon bits
1/2 cup shredded Parmesan cheese (NOT the stuff in the can, but you can use the refrigerated tub cheese if you don't want to grate your own)
1 TBSP parsley flakes
Preheat oven to 375°. Mix together cream cheese, bacon bits, cheese and parsley flakes. Make sure your cream cheese is really soft. It will make it easier to spread and not tear the dough. Open up one can of rolls and place on the counter. Roll out completely and pinch the seams together, making a large rectangle. I know Pillsbury sells a sheet of cresent roll dough so feel free to use that if they sell it in your store. Use a rolling pin to make it even, rolling it out just a little more. Spread half of the mixture evenly over dough. Tightly roll up lengthwise (Rolling it up the opposite way you unrolled it.) Repeat with remaining ingredients. *Using a thin kitchen twine or unflavored dental floss, cut your pinwheels. You should get 16 out of each roll. Place on a sprayed cookie sheet. Bake for 12-15 minutes or until golden brown. Let cool for 5 minutes then remove to a cooling wrack. Can be served warm or at room temperature.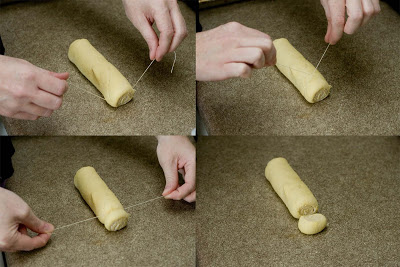 *Here is a little demo on how to "cut" dough with twine. (I decided to take a picture about halfway through the roll so yours will start out longer.)
1. Place twine under roll where you would like to cut it.
2. Cross over your twine (twine will change hands).
3. Keep crossing twine together, creating your cut.
4. Cut completely through and place on cookie sheet.
My aunt Ellen (sweet and fabulous aunt Ellen) emailed me this recipe last year. At that time I already had a list of desserts that I was to post. Then winter came and this recipe seemed out of place to create. It was always in the back of my mind to make and so I used Easter dinner as the perfect excuse to whip it up. I am so glad that I did because I will be making it more often all spring and summer long! However, I am going to rename it…(original name "Strawberry Cream Cheese Pie)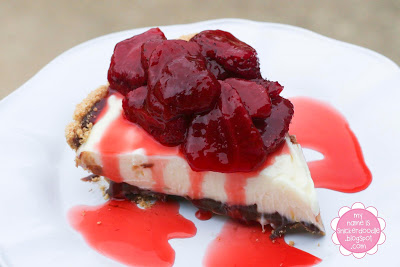 Chocolate Dipped Strawberry Pie
1 graham cracker crust
Chocolate Layer
1/2 cup whipping cream
1 cup semi sweet chocolate chips
Cream Cheese Layer
1 8 oz. cream cheese, softened
1 cup white chocolate chips
2 TBSP orange juice
2 tsp grated lemon peel
Topping
1 container of fresh strawberries, hulled and sliced or 12 oz. frozen
1 cup sugar
1/2 cup water
OR
1 container of strawberries, hulled and sliced
3/4 cup sugar
Place whipping cream and chocolate chips in a medium bowl. Microwave for 15 seconds at a time until chocolate chips are melted and mixture is smooth. Pour into crust and chill for 1 1/2 hours. Once chocolate is chilled, place white chocolate chips in a bowl in a small bowl and melt for 10 seconds at a time until melted. White chocolate is very temperamental so keep a careful eye on it and stir in between each heating. Once chocolate is melted, mix in cream cheese, orange juice and lemon zest. Spread evenly over chocolate layer. Chill for another 2 hours. To make topping, place strawberries, sugar and water in a small sauce pan. Bring to a boil over medium heat, stirring occasionally. Cook uncovered for 3 minutes. Remove from heat and cool completely. Cover and chill until ready to serve. OR make alternate topping (which I think I will do next time) This one isn't as "saucy", but easier and a little more fresh tasting…Stir together strawberries and sugar in a medium bowl. Cover and chill for 1 hour. Sugar should be dissolved making the strawberries sweet.