Delicious, delicious, delish! That's the best way to describe this recipe. You know me…I like to try to recreate dishes that I have had at restaurants. When we first moved to Texas (the first time) Ian's mom had taken us to Jason's Deli. I hadn't ever heard of it, but I was informed that you are safe to get any of the "spuds" your first time. I got the Plain Jain, but then the more we ate there, I started to gravitate to the Pollo Mexicano (with the sour cream and pico de gallo on the side…because I am not cool enough to like those things, but Ian does). Here is my version and I think it's pretty comparable. If you are not one of the fortunate souls to have a Jason's Deli in your area…I am sad for you. Very, very tasty food!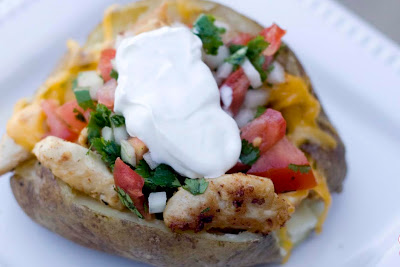 Mexican Pollo Spud

4 large baking potatoes

2 chicken breasts (boneless and skinless of course)

2-3 TBSP McCormick Grill Mates Mesquite seasoning or your favorite Mexican seasoning

1 1/2 TBSP olive oil

2 tomatoes, diced (whatever is your favorite kind…I used the on-the-vine kind, but roma is very good)

1/2 yellow or purple onion, finely diced

about 1/2 bunch of cilantro, chopped

1 fresh jalapeno, finely diced optional

cheddar cheese, shredded

sour cream

butter

salt

pepper
Bake potatoes your favorite way. I wash mine, poke them with a knife a few times then wrap them in foil. Then I bake them at 400 for 1 hour or until tender. While potatoes are baking, combine diced tomatoes, onions, cilantro and jalapeno together in a small bowl. Wrap with plastic and place in the fridge. About 15 minutes before potatoes will be done, cut up chicken into slightly larger bite size pieces. Sprinkle with seasoning and toss to coat. Place oil in a large skillet and heat to medium high heat. Once hot, place chicken in pan and cook for about 2-3 minutes on each side or until no longer pink in the middle. To assemble, slice potato down the middle and then pinch the sides down and in to open it up. (Unless you have steel hands you will want to use pot holders.) Add desired butter, salt and pepper to taste. Top with chicken, cheese (I like to melt my cheese a little in the microwave a little), pico de gallo and sour cream. Then dig in!
Since I am failing at providing a dessert recipe every time, I am just going to post them whenever I have made something…which I don't think is going to be any more frequent than it already is. I would love some feedback from you all of what you have tried and liked here. Maybe you haven't liked anything and let me know that too…maybe. I have had a request for more appetizer items so be expecting that soon!
Happy Easter weekend!