WOW!!!! I never really thought I would make it to 50 yummy Fridays full of food! That's 100+ recipes! Not anything compared to some fabulous food blogs out there (even though I don't consider myself a food blog). I didn't even realize that today was such a mile marker so I didn't plan anything super special. Maybe on some future random Friday I will do something fun…like a giveaway! Would you like that? I'll be thinking about it and surprise you one day.
Whenever I think of pork chops I always have a good little chuckle. Years ago, when we were first married, I made these pork chops. Another one of those "recipes" that I got from my catering job. Ian sinks his teeth into the first bite and proclaims that it's delicious! As any good new husband should respond, right? About halfway through dinner, he states that he has never had chicken cooked this way. CHICKEN!? I thought he was kidding and in my nice new wife voice tell him that he is eating a pork chop. He laughs and tells me that I am kidding him. For the remainder of dinner, we go back and forth…chicken, pork, chicken, pork. I am just laughing because I am the one that made dinner and he still doesn't believe me. I finally have to pull the package out of the trash and prove to him that IT'S A PORK CHOP! He just stands there in awe and shakes his head. Growing up his mom make pork chops or some sort of pork product occasionally. He said that her pork chops were flavorless and really tough. Growing up in my house we always had fried, bone in pork chops that were nice and crispy. My mom would always break out her electric skillet to cook them in and to this day whenever I see that skillet, I can smell the fried pork chops. Well, these are not fried, but baked and not necessarily more healthy because of the butter! They are tender and tasty, though!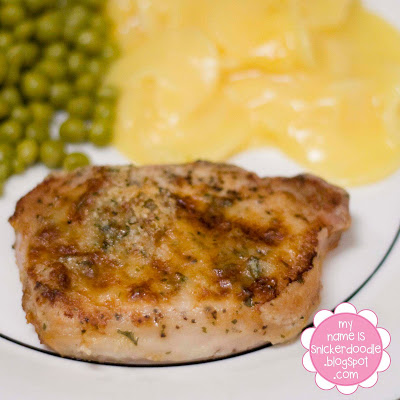 Favorite Pork Chops
1 boneless pork loin chop per person
1 cup flour
1 tsp parsley flakes
1/2 tsp garlic powder
1/4 tsp pepper
1/8 tsp salt
Real salted butter
1/4 cup water
Preheat oven to 350°. In a shallow dish combine flour, parsley flakes, garlic powder, pepper, and salt. Dredge each pork chop in flour mixture and place in 9×13 baking dish. Place water into dish (this will help give a little moisture while baking). Place 1/2 TBSP of butter on each chop. Cook for 35-40 minutes or until no longer pink in the middle.
Okay, I have really been slacking lately with the dessert recipes. Sometimes I am not in the mood to make something new so I just make my go to cookies or just have ice cream and hot fudge. Nothing fancy and nothing new to blog and share. Until I discovered this wonderful rice crispy treat. I found it on Cookie Madness, but of course had to make it my own. You are more than welcome to cut yours into smaller pieces, but who doesn't want to sink their teeth into this?
(Check out updated pictures HERE.)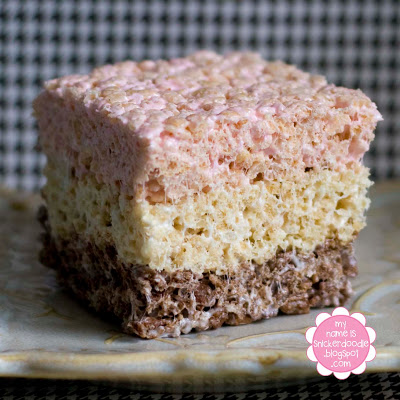 Neapolitan Rice Crispy Treats
Strawberry Layer
4 cups strawberry marshmallows
2 TBSP real butter
4-5 cups rice crispy cereal
"Vanilla" Layer
4 cups mini marshmallows
2 TBSP real butter
4-5 cups rice crispy cereal
Chocolate Layer
4 cups mini marshmallows
2 TBSP real butter
4-5 cups cocoa rice crispy cereal
Spray a 8×8 dish (I used a Wilton cake pan) with cooking spray. Set aside. Start with the chocolate layer. Melt marshmallows and butter in the microwave for 25-35 seconds, until completely melted. *It helps to cut up your butter into smaller pieces before melting.* Stir to combine butter and marshmallow and then add in cereal. Depending on how "gooey" you like yours is how much you add in. I added in 4 1/2 cups to mine. Butter or spray one hand and use it to press into the bottom of the pan evenly. Press to make it pretty compact. Then repeat with the "vanilla" layer and then strawberry layer. Let it set for 30 minutes up to an hour. Turn out onto cutting board and cut. Store in an airtight container.