Last summer when we went over to a friends house for some water fun, we had these super fabulous sandwiches! I ended up making a double batch for our family reunion a few weeks later. A super hit! I finally got around to making them again this weekend. I shared some with my sister-in-law's family and ate the rest for myself…Ian would have shared in the goodness, but he was not up for it this time around.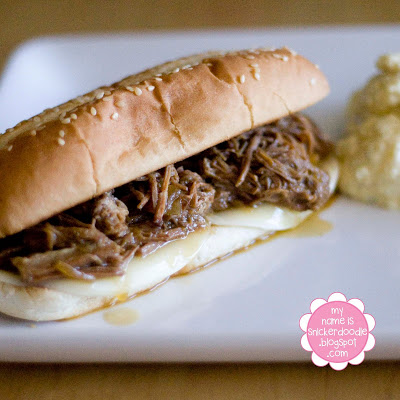 Italian Beef Sandwiches
3 lbs chuck roast
1/2 tsp pepper
1 can beef broth
1 1/2 cups water
1 pkg Good Seasonings Italian Dressing mix
1 pkg Au Jus mix
1 jar sliced pepperachini's or sliced banana peppers (all the taste with no spicy hotness)
1 yellow onion peeled and medium slice
provolone cheese
hoagie buns (toasted)
Place roast and onions in the crock pot. In a medium bowl combine broth, water, dressing mix, au jus mix and half the jar of peppers. Cook on high for 8 hours. Watch your liquid that it doesn't get too low and burn your meat. Add a little more water or another can of broth if needed. Shred with two forks. Add in the remaining half jar of peppers. Assemble on buns with cheese.
*I like to start cooking mine before I go to bed the night before I want to serve them. The next morning I turn it down to low and let it get really tender by dinner time.
These cookies are practically a staple in our home…sad…I know! I know all of you have come across this recipe at least once maybe a few times in your life. Remember when forwarding emails was a really popular thing to do? (If you are still forwarding emails you need to stop!) This particular email was all about a lady that asked for a certain cookie recipe from a certain store and she was supposedly charged $250 for it. The story goes that she was completely upset by the cost that she sent the recipe to all her friends and so on and so on. I had this "Neiman Marcus" cookie recipe forever before I even gave it a chance. A few years later I found out that it wasn't even the really recipe the store uses…SHOCK! Anyways, here is you chance to make this cookie if you haven't in the past. It's a keeper…maybe even worth $250!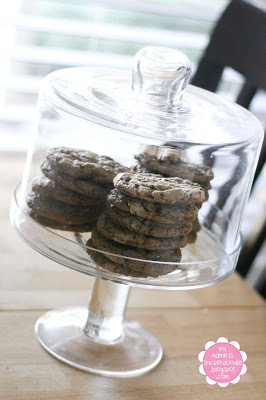 NM Cookies
1 cup butter
1 cup sugar
1 cup brown sugar
2 eggs
1 tsp vanilla
2 cups flour
1 tsp baking powder
1 tsp baking soda
1/2 tsp salt
2 1/2 cups blended rolled oats
3 cups chocolate chips
1 cup nuts (optional)
Cream together butter and sugars. Beat in the eggs and vanilla. Stir in flour, baking powder, baking soda and salt. In a blender or food processor, blend together oats and 1 cup chocolate chips until it becomes a fine powder. Stir in to cookie dough. Add in the remaining chocolate chips. Use a cookie scoop or roll into balls and place in a cookie sheet. Bake at 375° for 8-11 minutes.