I thought I would go with super simple and easy recipes today. I want to incorporate more tips, tricks, and cooking methods along with recipes this year. And this one is my favorite!
I never was a veggie kid growing up…just the basics. I didn't even try asparagus until I was 19 years old. My parents and I had taken a vacation to Disneyland for my mom's birthday and we were getting a little hungry. There is a little "restaurant" across from the Indiana Jones ride (I think) so my dad and I wandered over. He begged me to try something new (I was completely opposed, but gave in) and so he ordered Bengal Tails…bacon wrapped asparagus with a wedge of lemon on the side. SO COMPLETELY delicious! I will post that recipe closer to grilling season because believe me…it is perfection.
So now, *cough* 13 years *cough* later asparagus is my favorite vegetable. The best way I like to cook it is to roast it in the oven. Easy peasy…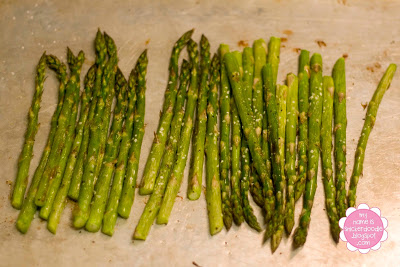 Roasted Asparagus
1 bundle firm asparagus
2 tsp olive oil
salt
pepper
Preheat oven to 400º. Break off the bottom of each asparagus stalk, getting rid of the woody stalk. I usually do one and the cut the rest all at once to match the size. Place on a cookie sheet. Drizzle with olive oil and toss to coat. Arrange in a single layer and season with salt and pepper. Roast for 8-10 minutes or just until fork tender. Since this year is already flying by I will put it in your head that this is a perfect side dish for any Easter feast!
Here is one of the other cookie recipes that I made for Liam's little family birthday party. I just combine two recipes that I already had and made a new yummy creation.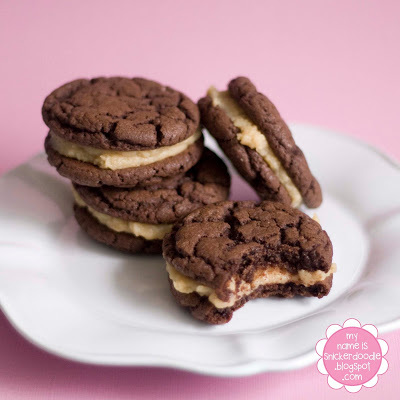 Chocolate and Peanut Butter Sandwich Cookies
Cake Mix Cookie recipe
Cream Cheese and Peanut Butter Frosting recipe
Because I was making sandwiches, I rolled the cookies into 1 inch balls. Let cookies cool completely. Spread desired amount of frosting on one cookie and sandwich it with another.
I like mine chilled so I put them in an airtight container and stored them in the fridge. Enjoy!