We are pizza people. Love it. I have made a few homemade pizzas in my life and this BY FAR is the most delicious. Seriously…I am debating whether or not to every order out again. I tried the recipe last week and then made it again (supreme style) last night. Completely delectable! Originally recipe found on this blog, but I tweaked mine of course.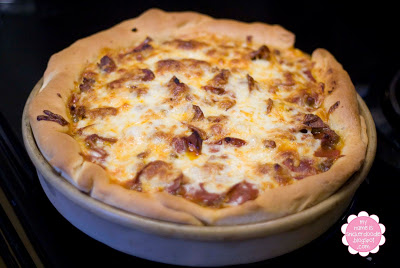 Deep Dish Pizza
Crust
1 cup warm water
1 pkg yeast
1 TBSP sugar
1/3 cup vegetable or canola oil
1 tsp cream of tartar
3-4 cups flour
The Rest
1 jar of favorite spaghetti sauce
8-12 oz mozzarella cheese, shredded
pepperoni
2 Italian sausage links, uncooked
green peppers
sliced olives
sliced mushrooms
In a small bowl, mix together sugar and warm water. Sprinkle yeast on top and gently stir with finger. Cover with a towel and let proof for about 5-7 minutes. Mixture should be bubbly at that time. In a medium bowl mix together oil, cream of tartar and yeast mixture. Add in 3 cups of flour and add more from there if needed. Dough should be firm, but slightly sticky. Knead it for about 10 minutes, adding a bit more flour is needed. Roll into a ball. Pour about 2 tsp of oil in a large bowl and roll dough around until coated. Cover bowl with plastic wrap and then a towel. Place in a warm place and let rise for about 2-3 hours. You can also let it sit out overnight on the kitchen counter. Roll out large enough to fit into a 10 or 12 inch cake pan or stone that has sides. Coat the pan with lots of melted butter, the bottom and sides. Place dough in pan and pinch the dough up the sides.
Now go with me on this one…it seemed totally backwards to me, but makes for the best pizza! Place half of your shredded cheese on the bottom of the crust. Place your pepperoni around and then pinch small little pieces of uncooked sausage around. Add other desired toppings, but I am telling you, I think it's the uncooked sausage that makes this the best. Pour about half of the sauce (about 3/4 cup) over the toppings. Add more if you like it saucy. Bake in the oven at 350 for about 35 minutes. Take out of oven and sprinkle remaining cheese over the top. Place back in oven and cook until cheese is melted and crust and cheese is slighly golden brown. About 45-50 minutes total cooking time. (Sausage will be completely cooked by this time.) I let mine sit for about 5 minutes before cutting into it.
*For better cheesy results, buy a block of mozzarella and shred it yourself. Pre-shredded cheese has additives and coatings that help it not stick together in the bag and it doesn't melt the best.
No dessert recipe today!