I guess there is some big football game this weekend so I thought this would be the perfect time to post this recipe. It comes from our wonderful friends, the Meyers, and it's a family favorite even though I have only made them twice…here and this last Thanksgiving. I would absolutely love them, except that I can't have them…TOO SPICY! But the taste is fabulous.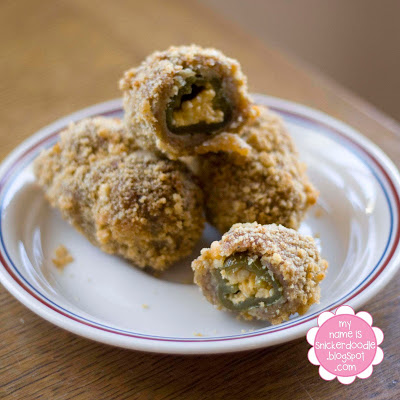 Armadillo Eggs
1 lb pork sausage
1 1/2 cups Bisquick
8 oz. Monterey Jack cheese, shredded
2 eggs
1 pkgs Oven Fry pork flavor
1 large can whole jalapeno peppers
Cut around the stems and hollow out peppers. Stuff peppers with cheese. Set aside. Mix together raw sausage, Bisquick and any remaining cheese. Make thin patties and roll around stuffed peppers, covering completely. Dip peppers into 2 beaten eggs and then roll peppers into oven fry. Place on a cookies sheet and bake at 325 for 35 minutes or until golden brown. Serve hot. Crowd pleasure for SURE!
*You might want to wear rubber gloves so that you don't burn your hands while cleaning out the peppers. Mine burned for 3 days after.
I made these last weekend for a girls night and had to hold myself back from eating to many before I took them over. Easy and delish! I think these would be perfect for Valentine's day. *It was a last minute decision to make these so they are not as pretty as I would have liked…take your time with yours.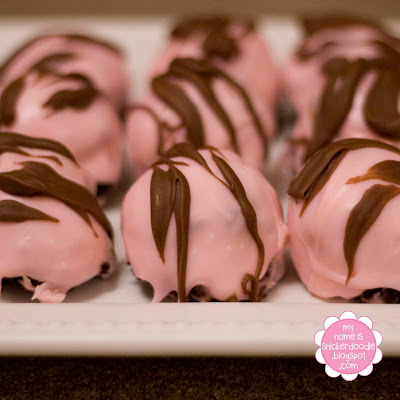 Brownie Bites
Your favorite brownie recipe or mix
1/2 tub chocolate frosting
white chocolate
food coloring (optional)
semi sweet chocolate (optional)
Bake brownies according to directions and cool completely. Frost brownies. With a 1 inch ice cream/cookie scoop, scoop out frosted brownies and place on a cookie sheet that has been lined with parchment paper. Place in the freezer and chill for 30 minutes. Melt white chocolate in the microwave 10 seconds at a time until completely melted. Add food coloring if desire and stir. Coat the top of the brownie bites by dipping them into the chocolate and place back on the parchment paper. Let chocolate harden before drizzling with more melted chocolate.
WINNERS!!! I decided that since 16 of you commented here, that I could just send you all one!
Please email me your name and address as soon as you can then you can have it for the 14th.
Thanks for playing…I love how so many of you loved The Notebook! I really want to see Dear John, but not sure if it will be as tearful as The Notebook. We just saw When In Rome and it was alright. Not as cute as I would have loved for it to be.