There are few things on my list of things that I just cannot resist. Pulled pork is near the top! I don't know if it's the salty/briny-ness of it or the fact that I pretty much love any and all cuts of pork!
I know cooking pork intimidates a lot of people, but with only 4 ingredients to this Pulled Pork recipe, you really can't mess it up. Plus, you are cooking it in a crock pot so it truly is a win win for everyone!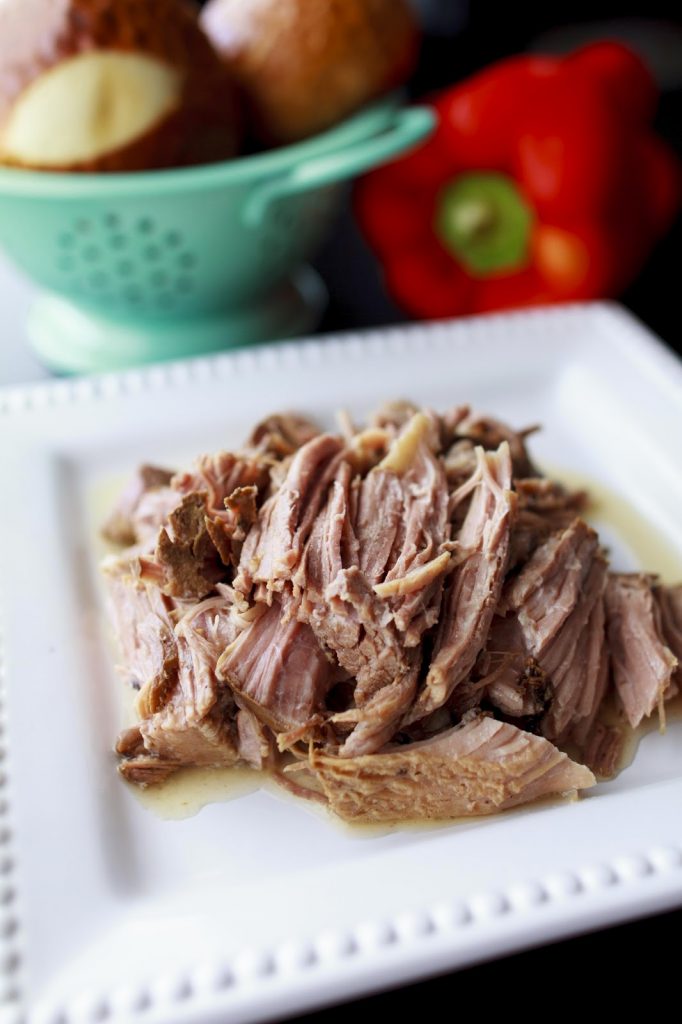 Since this recipe is completely simple, you can use it as a base for other recipes. The first night we just eat it along with some rice and a veg. The next night we turn it into BBQ sandwiches. AND if there is any BBQ left, we turn that into saucy and cheesy nachos!! I love recipes that can be turned into multiple meals.
Pulled Pork
Printable Version
Serves 8-10
Ingredients
5-6 lbs pork shoulder*
1/3 cup of mesquite liquid smoke
1/4 cup soy sauce
1/4 cup kosher coarse salt*
1/2 tsp pepper
Instructions
1. Place pork shoulder in slow cooker.
2. Pour liquid smoke and soy sauce over meat.
3. Sprinkle half of the salt and pepper on one side, flip, and sprinkle with the rest.
4. Cook on low for 8-12 hours or high for 6-8 until easily shredded (or pulled) with a fork.
5. Remove cooked pork to a plate and pull apart.
6. Pour a little of the reserved juices over the top to help it keep moist.
*Sometimes a pork shoulder roast is also called a pork butt. It's the exact same cut of pork.
*It may seem like a lot of salt…and it is. Pulled Pork is supposed to be on the salty side.
This recipe is linked up at – The Party Bunch,