Did I really just blog every day this week? Shock! Blogging is something that gets me out of the "blah cycle". Then it's just finding the balance of not reading too many adorable blogs that I let myself feel inadequate by…You know what I mean!
This entry is dedicated to my friend, Rachel…We got talking about old times when she was here and how she used to work at Pretzel Time (in the University Mall) when she was in high school. I used to love to pick her up after she closed because she would always bring a bag of pretzels as a treat. I have made this recipe once before, but was craving it again once our company left (even though we had fabulous food all weekend long while they were here…Pappasitos, pancakes and spam, Oreo Goodness (recipe to come) and BJ Brewery).
You don't even need to let the dough rise and can have them made in a half an hour! Original recipe can be found here.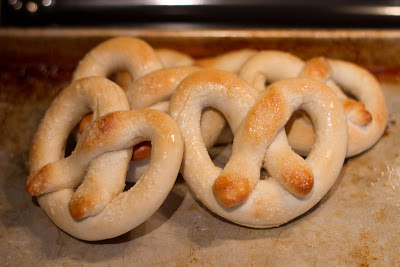 Soft Pretzels
1 1/2 cup warm water
1 TBSP yeast
1 Tb sugar
1 tsp salt
4 cups flour
Add sugar to warm water then sprinkle yeast on top. Cover with a towel and let sit for 6-10 minutes as yeast activates and starts to foam. In a large mixing bowl combine flour and salt. Stir in yeast mixture and knead 5-10 minutes. Add more flour as needed to reduce stickiness. Divide dough in to 12 pieces and roll each piece into a long rope or "snake". Twist into pretzel shape and place on nonstick baking sheet. Make an egg wash with one egg white and a TBSP of water, lightly beaten together. Brush pretzels with egg wash then sprinkle liberally with Kosher salt*. Bake at 425 degrees for 15 minutes or until lightly browned. Remove from oven and liberally brush with melted butter. These are best when served fresh from the oven.
*I usually only sprinkle half with salt. I save the other half for a sweeter version. While pretzels are baking, melt 1/4 cup butter in a bowl and set aside. In another bowl, mix together some cinnamon and sugar. Once pretzels are baked, remove and use a fork (because they will be piping hot) to dip them in butter then in the cinnamon/sugar mixture. Place back on the cookie sheet to cool slightly.