Let's face it.  Life can get really crazy!  Some days I feel like it's always crazy town around here!
As much as I love eating a well executed meal, it's really nice to throw some ingredients together and within minutes have a meal.  Not just something edible but, something that actually tastes fabulous!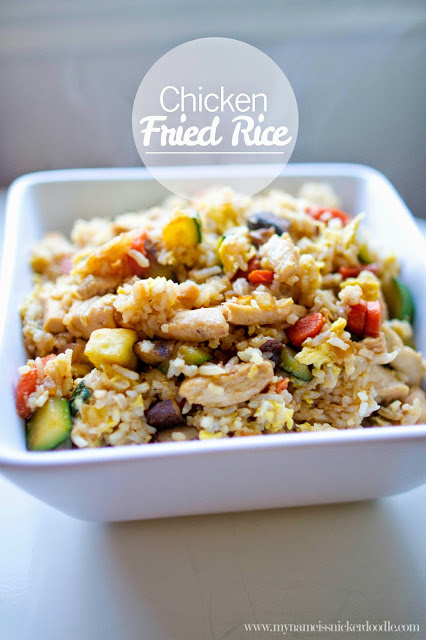 That's how I feel about Chicken Fried Rice.  I typically end up with extra rice after a week night meal and the left overs are perfect for this dish.  Feel free to use whatever veggies you have on hand as well.  Make sure you just cut it all into the same size.   It really is good with anything!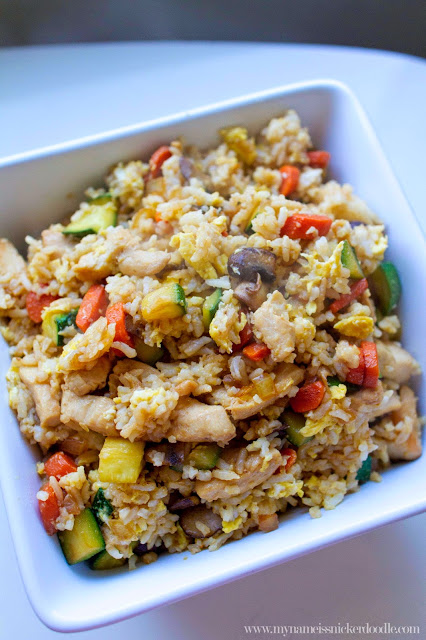 Chicken Fried Rice
Printable Version


Ingredients
3 cups cooked white or brown rice
2 medium chicken breasts, cut into small pieces
1 medium yellow onion, small diced
2 medium carrots, peeled and small diced
8 oz button mushrooms, sliced
2 small zucchini, medium diced
2 TBSP canola oil, divided
3 TBSP butter, divided
1/4 – 1/2 cup soy sauce, divided
2 large eggs
Directions
1.  In a large skillet, heat 1 TBSP of oil over medium high heat.
2.  Place chicken pieces in a single layer and cook through for about 1-2 minutes on each side or until no longer pink in the middle.
3.  Remove chicken to a plate and set aside,
4.  Heat another 1 TBSP oil in the same pan over medium high heat.
5.  Add onion and carrot to the pan and saute for about 2 minutes or until carrots are slightly tender.
6.  Place 1 TBSP of butter into the pan and add in mushrooms and zucchini.  Stir and cook an additional 2-3 minutes.
7.  Stir in chicken, cooked rice and 1/4 cup of soy sauce.  Mix until rice and veggies are evenly coated in soy sauce.
8.  Make a well in the middle of the pan and drop the remaining 2 TBSP of butter into the pan.
9.  When the butter starts to melt, crack eggs into the middle and immediately start stirring to scramble them.
10.   Once they start to cook through, start to incorporate them into the rest of the ingredients.
11.  Season with more soy sauce if desired.
This recipe is linked up at – The Creative Exchange, Lovely Little Link Party,