Chinese Chicken Salad is super crunchy and savory with a hint of sweetness.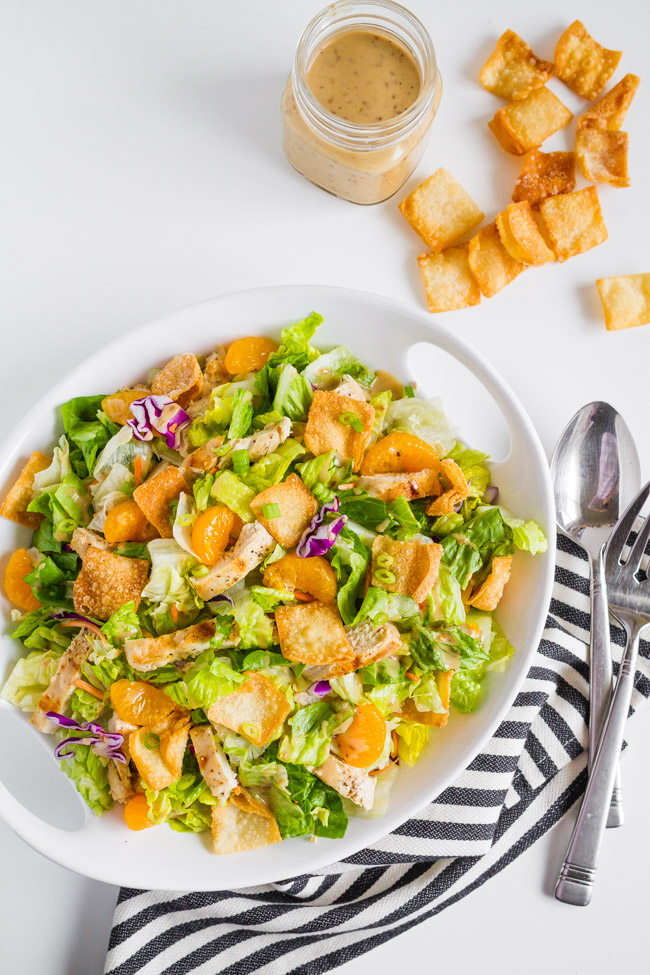 Do you have meals that you just crave?  Some days I wake up thinking of a certain recipe that I just can't get out of my mind and HAVE TO HAVE IT that day.  I only thought that happened when I was pregnant!  I hope that I'm not the only one.  A few weeks ago I was totally craving Chinese Chicken Salad.  There was something about the crunch and sweetness that my day was not going to be complete if I didn't eat it.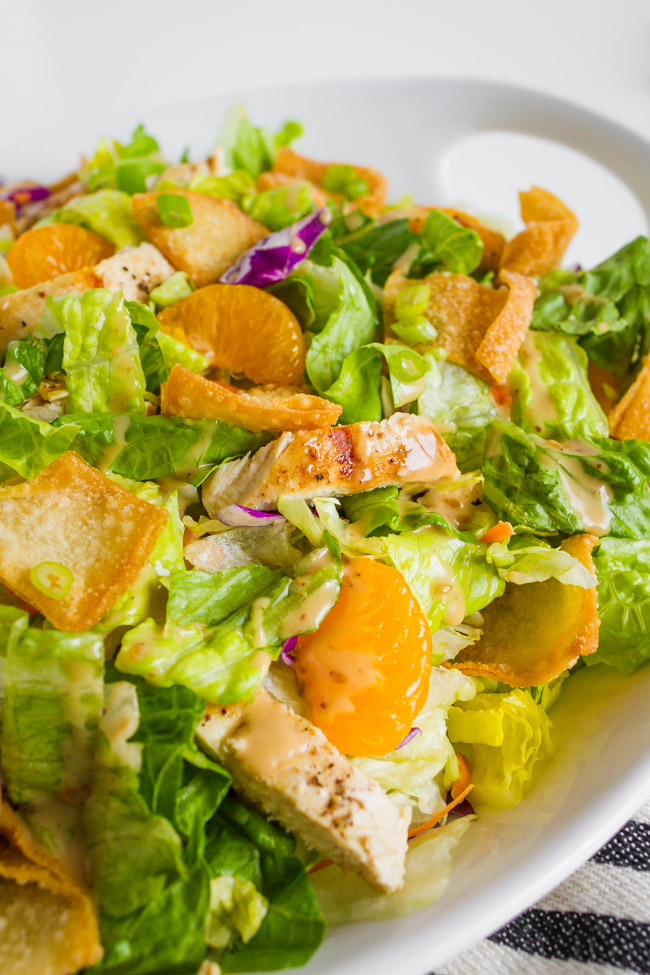 Now, I've never actually made a Chinese Chicken Salad on my own.  It has always been something I've had at a bridal or baby shower.  That's when I got to work and started creating my own recipe and I think I nailed it!  This salad is super crunchy, slightly sweet and savory all at the same time.  I love savory and sweet food and it reminds me of my family's favorite dinner of Orange Chicken.   This would be perfect for a baby or bridal shower, but it's especially great simply to make for lunch or dinner!
I grilled my chicken, but you could certainly use a rotisserie chicken or even left over roasted chicken from a weekend dinner.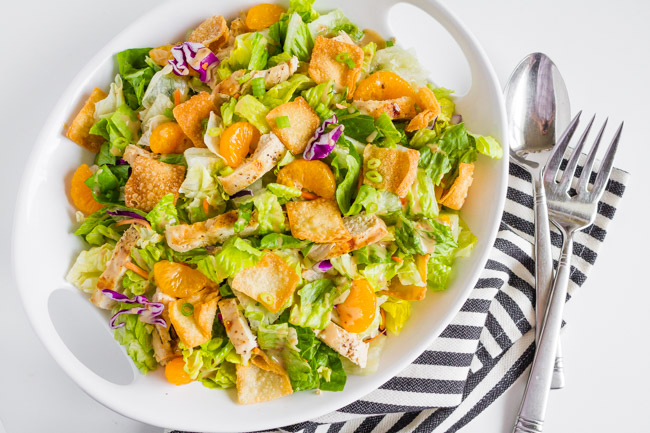 Here is the recipe!
Chinese Chicken Salad
Author:
Prep time:
Cook time:
Total time:
A super crunchy salad that is perfect for lunch or dinner!
Ingredients
FOR SALAD:
1 Head of Romaine Lettuce, Washed and Chopped
1 Cup Purple Cabbage, Shredded
2 Large Carrots, Finely Shredded
3 Scallions, Finely Sliced
2 Cups Cooked Chicken Breasts, Sliced or Cubed
29 oz. Mandarine Oranges
10 wonton wrappers cut into 9 squares each
Canola Oil
FOR DRESSING:
1/2 Cup Mayonnaise
1/4 Cup Soy Sauce
1 tsp Sesame Oil
2 TBSP Toasted Sesame Seeds, Divided
1 TBSP Rice Wine Vinegar
1 TBSP Brown Sugar
2 Garlic Cloves
Instructions
FOR SALAD:
In a large sauce pan heat 2 inch of Canola oil over medium high heat.
Fry cut wonton wrappers in small batches until lightly golden brown and drain on a paper towel.
In a large salad bowl gently mix together lettuce, cabbage, carrots, scallions, chicken, mandarine oranges and wonton croutons.
FOR DRESSING:
In a blender, blend together mayonnaise, soy sauce, sesame oil, 1 TBSP toasted sesame seeds, vinegar, brown sugar and garlic until smooth and creamy.
Stir in reserved toasted sesame seeds.
Toss salad with dressing and serve.
*If you can't find toasted sesame seeds in the store here is what you need to do. In a dry small saute pan heat sesame seeds over medium high heat. Constantly stir for 3-4 minutes until lightly golden brown. Cool them on a paper towel. They will burn quickly so be careful to watch.