Breakfast is my favorite meal of the day!  Do I eat a fancy breakfast every day.  Um, no.  I wish I did, but most of the time it's either cold cereal, a smoothie or dessert from the night before.  Am I the only one who does that?  Hopefully not!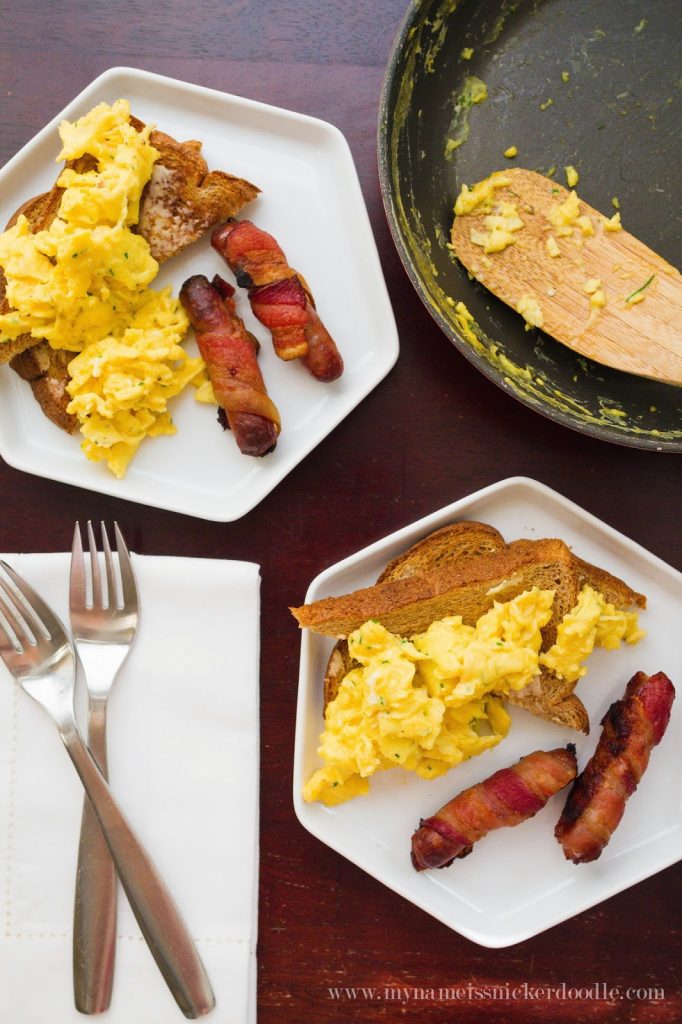 Even though it might sound like I love a good sweet breakfast, savory is what I prefer most.  And especially if the breakfast include bacon.  I have a love/love relationship with all breakfast pork products actually.  That's why I decided to wrap my breakfast sausages in bacon.  Say what?!?  Oh, yes I did and when you make it for yourself, you are more than welcome to come back here and leave me the nicest comment ever of how I changed your life!  Or at least your breakfast!
And let's not forget the scrambled eggs.  Let's just say there is butter involved.  Feel free to use less, but when you're eating bacon wrapped sausages, you might as well go all out!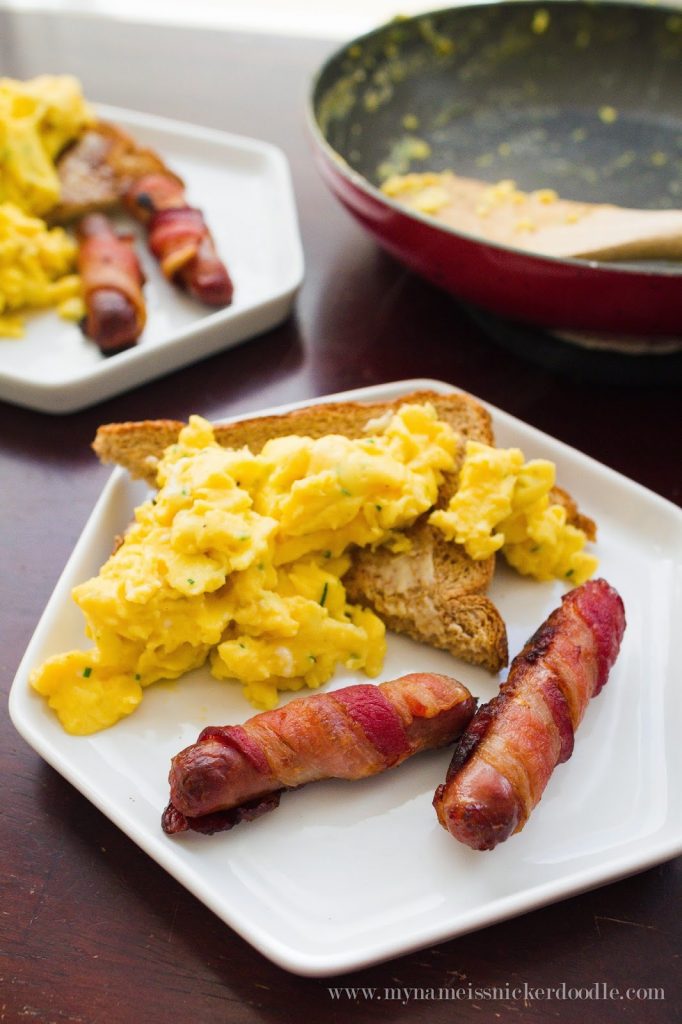 Chive Scrambled Eggs
Printable Version
Serves 2
Ingredients
5 large eggs
1/4 tsp fresh cracked pepper
pinch of salt
2 tsp chives, finely chopped
2 TBSP butter
Directions
1.  In a medium bowl whisk together eggs, pepper, and chives until uniform in color.  Save the salt until the end.  If you add into your raw eggs it tends to make them tough.
2.  Preheat a medium skillet over medium low heat and add butter.
3.  Let the butter melt, but not brown.  If it starts to brown, turn down the heat.
4.  Pour eggs into pan and stir with a wooden spoon.
5.  Gently stir eggs for about 4-5 minutes until they are just cooked and slightly wet on the outside.
6.  Sprinkle with a little salt and serve over toast.
Bacon Wrapped Sausage
Printable Version
Serves 2
Ingredients
2 slices of hickory smoked bacon, regular cut
4 breakfast sausage links
Directions
1.  Preheat oven to 400 degrees.
2.  Cut each bacon slice in half.
3.  Wrap each half around the sausage links and place on a foil lined small baking tray.
4.  Bake for 25 minutes or until bacon is slightly crispy and sausage is cooked through.
5.  Remove from tray to a paper towel lined plate to dab off any excess grease.
6.  Serve.