We have been having fun lately doing art projects as a family. Ian got Liam some water colors and a huge pad of paper and we've been painting like crazy. It's been a lot of fun so we decided to take it a step further.
We created this "art" piece together.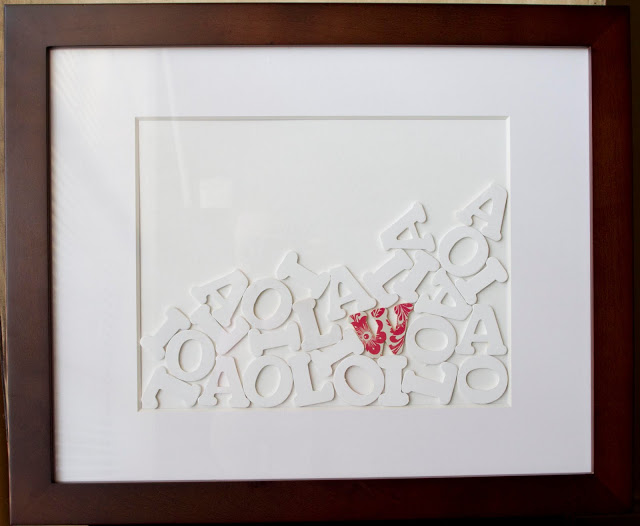 When I first saw this a few months ago, I knew that I wanted to do it for our home. Ian convinced my control freak self to let the whole family…well, minus baby…to get in on it. I am glad I "let" them help! Every time I walk by and see it, it reminds me of working together and having fun. We painted each of our first name initials white, then I glued a patterned paper on top of our last name initial and cut it out with a craft knife. We ended up taking out a few letters because we liked the look of the them kind of "settling" towards the bottom. Way simple, right? Way cute, right!
What you'll need to create your own…
Any size frame with matte
Thin wood letters (I got mine at Hobby Lobby)
Acrylic paint (or spray paint)
Paint brushes
White art paper (for the background)
Paint your letters.
Let them dry.
Randomly place them in the frame.
Hang.
See, simple.
And speaking of cute…make sure to check out my very first sponsor, Adhering Words!
I would love to share your greatness on my blog! Click on my ad button above!