A friend of mine reads my blog and knew that I was short handed on pumpkin recipes for my self proclaimed "pumpkin recipe month". She so wonderfully passed along this recipe and I was so excited to bake it. It called for blueberries, which I bought. However, every time I went the fridge, I would grab a few to snack on until there were three left. Not quite enough for the recipe! So I substituted them for the next best thing…mini Hershey's Kisses (found in the baking isle)! Don't they have as many antioxidants as blueberries…well, none, but they taste just as good, right? So, thanks for the recipe, Dawnette! I know everyone is going to love it as much and I do (three slices later…)!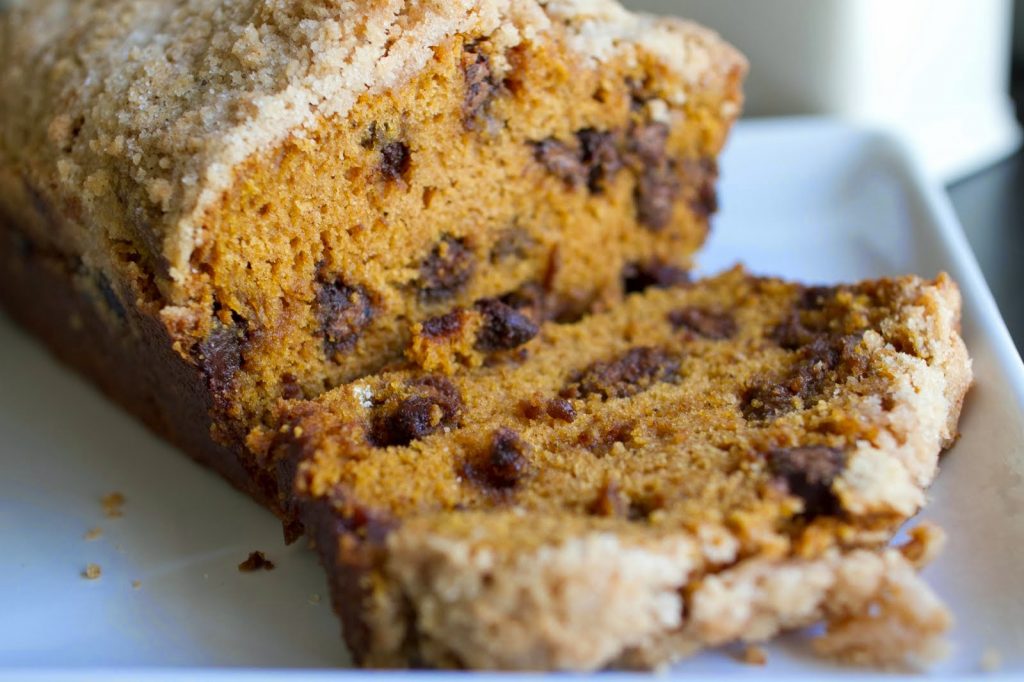 Pumpkin Chocolate (or Blueberry) Bread with Streusel Topping
Make 1 Loaf or 24 Muffins
Printable Version
Pin It
2 cups sugar
2 eggs
1 1/4 cups pumpkin puree
1/4 cup oil
2 1/4 cups all purpose flour
1 tsp baking soda
1/2 tsp salt
1 1/2 tsp cinnamon
1/2 tsp nutmeg
1/4 tsp clove
1/4 tsp ginger
1 1/2 cups Mini Hershey Kisses (or chocolate chips)
OR 1 cup blueberries
Streusel Topping
1/4 cup sugar
2 TBSP all purpose flour
1/2 tsp cinnamon
2 TBSP butter
Preheat oven to 350°. Spray a loaf pan with cooking spray and set aside. In a large bowl, cream together sugar, eggs, pumpkin and oil. In another medium bowl, whisk together flour, baking soda, salt, cinnamon, nutmeg, clove, and ginger. Add dry ingredients into wet ingredients and mix until just combined. Gently stir in Kisses (or blueberries). Pour into loaf pan and set aside. For streusel, combine sugar, flour and cinnamon. Cut in butter until small crumbles. Sprinkle over batter and bake for 55-60 minutes. Let it cool for 10 minutes then turn out onto rack and cool completely.
This recipe is link up at – Weekend Re-Treat, Monday Funday,