I don't think I need a story to go along with this recipe…I'm pretty sure it speaks for itself! I came up with it on the spot and it turned out FABULOUS! I do have to say that it was my dad who inspired me to make the French toast, but I went a little overboard by adding all of the extras! *Make your banana bread ahead of time and allow it to cool completely. (And the recipe with the longest name goes too…)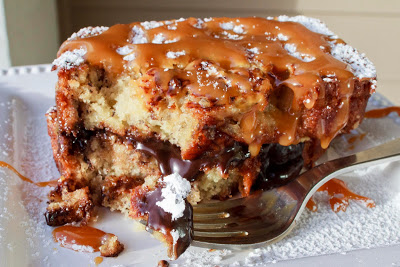 Banana Bread French Toast
Printable Version
Pin It
Banana Bread Loaf (see my recipe below or use your favorite recipe)
3 Eggs
3/4 cup milk
1/2 tsp cinnamon
butter
*Philadelphia Indulgence Dark Chocolate (a chocolate cream cheese spread) or chocolate chips
Caramel Sauce (I used Mrs. Richardson's)
Powdered Sugar for sprinkling
Preheat a skillet over medium heat. In a shallow dish whisk together eggs, milk and cinnamon. Slice your banana bread loaf into 1 1/2-2 inch slices (about 8 slices total). Place about 1 tsp butter in skillet and melt. Dip one slice at a time into egg mixture and place onto hot skillet. Cook a few at a time with about 2-3 minutes on each side. Repeat until all slices are cooked.
Place one toast onto a plate and spread a thin layer of Chocolate Indulgence on top. Place another toast over that, sprinkle with powdered sugar and top with warm caramel sauce. Serve hot!
Breakfast or dessert…you decide!
*See more about Philadelphia Indulgence here.
Banana Bread
Printable Version
1/2 cup butter
1 cup sugar
2 eggs
1 tsp vanilla
1 1/2 cups flour
1 tsp baking soda
1/2 tsp salt
1/2 cup sour cream
1 cup mashed bananas (about two medium bananas)
Sift flour, soda, and salt together in a bowl and set aside. In a large bowl cream together margarine and sugar. Stir in vanilla and beat in eggs. Add flour mixture and sour cream alternately. Mix well. Stir in bananas until well combined. Pour batter into a lightly sprayed loaf pan. Bake at 350° for 40-50 minutes or until center is set and cooked through. Cool completely.