Growing up my Aunt Sara always made the best zucchini bread (and the best zucchini brownies if we're talking zucchini!). I was amazed when she would take me out to her garden and find the hidden zucchini that seemed to have double and sometimes tripled over night.
I altered her recipe to make it…well…chocolatey! If you want to omit the chocolate part of it and end up with a great zucchini bread, use 3 cups of flour and leave out the cocoa powder and chocolate chips. But why would you want to do that? Unless your allergic, then forget I said anything! Also add 1 teaspoon of cinnamon to amp up the flavor.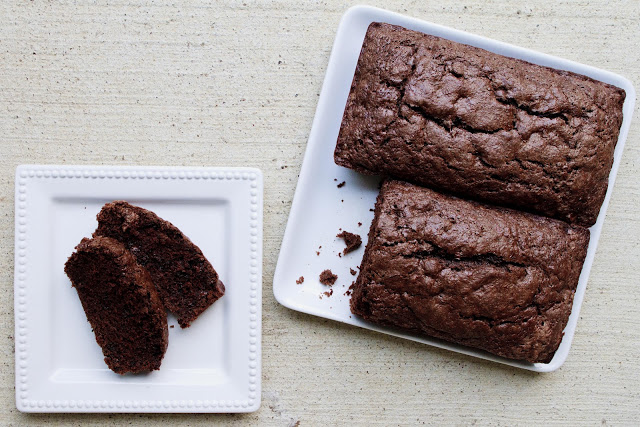 Chocolate Zucchini Bread

Makes 2 Loaves
1 cup oil (or applesauce)
3 large eggs
2 cups sugar
1 1/2 tsp vanilla
2 cups grated zucchini
1 tsp salt
1 tsp baking soda
1/2 tsp baking powder
1/4 tsp cinnamon
2 cups flour
1/2 cup cocoa powder
2 cups chocolate chips (semi sweet or milk)
Preheat oven to 325°. In a stand mixer or large bowl beat together oil, eggs and sugar. Mix in vanilla and grated zucchini. In a medium bowl whisk together salt, baking soda, baking powder, cinnamon, flour and cocoa powder. Blend just until ingredients are well incorporated. Fold in chocolate chips. With cooking spray, lightly spray two standard loaf pans. Divide batter evenly (about 4 cups each) between pans. Bake for 60-70 minutes or until an inserted toothpick in the center comes out clean. Let the loaves cool in pan for 20 minutes, run a knife around the edges then remove to complete cooling on a wire rack.
Bring your favorite chocolate dessert to Roxana's home baking #chocolateparty and win amazing prizes from Imperial Sugar®, Gold Medal Flour®, Safest Choice™ Pasteurized Eggs and KitchenAid®