With all of my pregnancies, I am easily influenced when it comes to seeing food and wanting it right away. A commercial or a show and don't get me started on the Food Network!
A few weeks ago I was watching TV and I saw the most delicious crepes. Instantly the craving started and I knew it would not subside until I had some form of sweet crepes.
Now, I've only had crepes twice in my life. Once my freshman year in high school. I was taking French and our teacher gave a whole cooking lesson in French on crepes. They were delicious.
The second time was at my friend, Jamie's house for a church activity years ago. Luckily, I found her recipe in a neighborhood cook book that was also created years ago. Even though I haven't talked to her in forever…she still makes the best crepes (in my opinion)!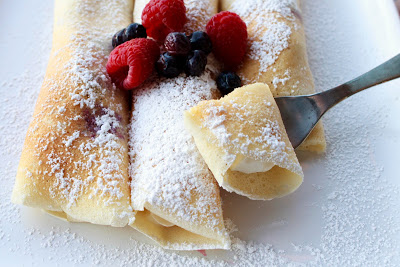 Crepes
Printable Version
Pin It
1 1/2 cups flour
1 TBSP sugar
1/2 tsp baking powder
1/2 tsp salt
2 cups milk
2 eggs
1/2 tsp vanilla
2 TBSP butter, melted
In a large bowl whisk together flour, sugar, baking powder and salt. In a small bowl whisk together milk, eggs and vanilla. Add to dry ingredients and beat together until well mixed. Heat a medium skillet over medium heat and melt butter. Add the melted butter to batter and combine. For each crepe, pour 1/3 cup batter into hot skillet and tilt the pan until you've created about a 5″ circle. Cook until light brown (about 1-2 minutes) and then using a rubber spatula, flip over and continue to cook for another minute or until light brown. Serve warm.
*I filled mine with fresh berries and whipped cream, then dowsed them in powdered sugar. Other filling options can be jam, sour cream, pudding, or fresh fruit.