Of course, for my mother's sake, I must update on Christmas. Even if it is past! I'll try to make it easy and painless for you!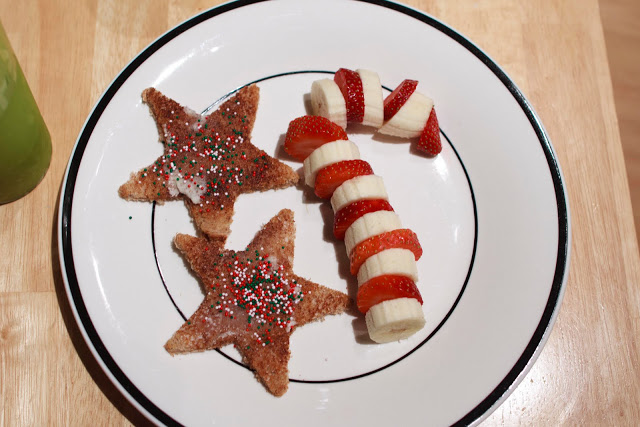 Christmas even morning I started a new breakfast tradition. Christmas toast and fruit candy canes! Liam was apprehensive at first, but ate it all up!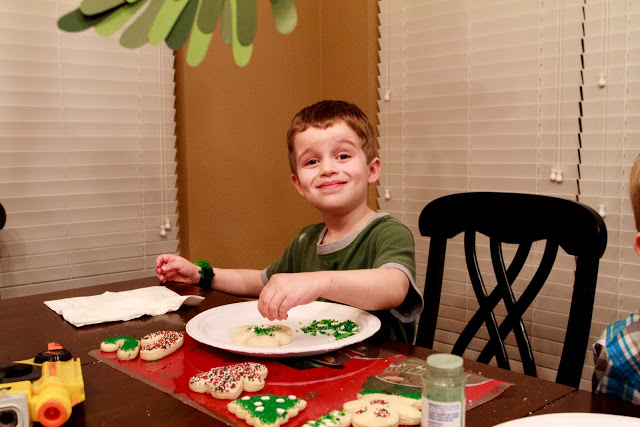 Christmas Even night we headed over to my sil's house to spend some quality with all the family. We had a delicious dinner (non-traditional meatloaf and wonderful sides)…my in-laws are not to big on traditional meals like turkey or ham. The kids decorated cookies for Santa and my sil helped the kids make doughnuts for the elves. A.K.A Cheerios dipped in chocolate with sprinkles and some with powdered sugar! Adorable!
I had "special ordered" reindeer food straight from the North Pole. It was delivered that night by Santa's special delivery elves and left on the doorstep. Those elves are quick!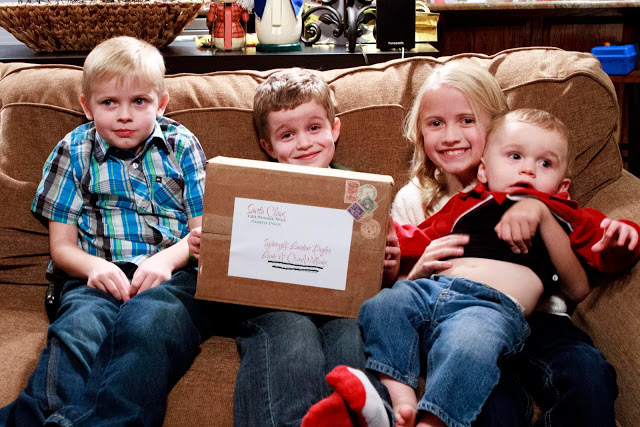 The package came complete with…
Crystalized North Pole Snow (clear plastic glitter)
Jingle Bell Feed (wild rice)
Energy Boost (cornmeal with glitter)
Dash Away Oats (quick oats with glitter)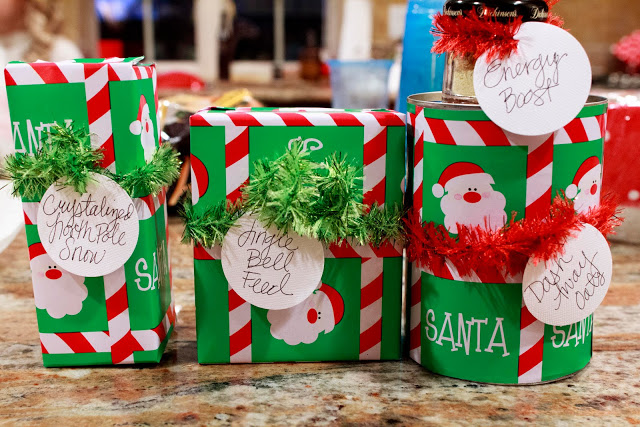 The oats I put in a pop top can that I cut the bottom out of so the pop top was still in place. I was so excited to put this all together and the kids loved it. They each got to take a turn mixing in the bowl.
The cousins got to open their gifts to each other and we just hung out the rest of the night.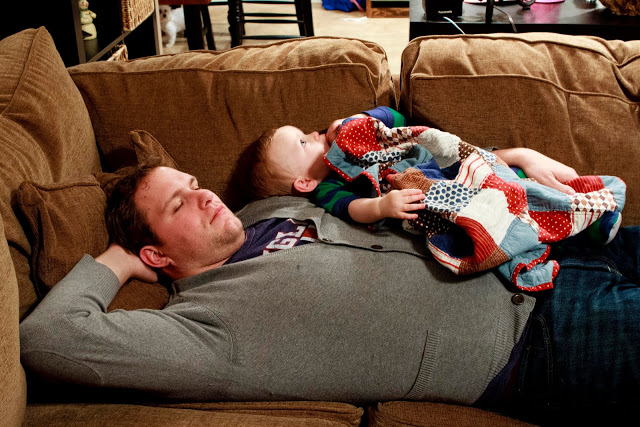 When we got home, Mrs. Claus left pajamas in the boy's stockings and slippers in Ian's and mine. She is so thoughtful!
Christmas morning, the kids slept in and I was the first one up. That never happens except on Christmas! It's the one day I don't mind actually getting out of bed early.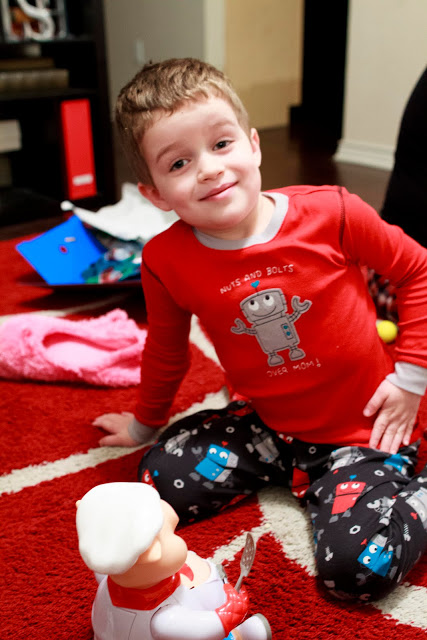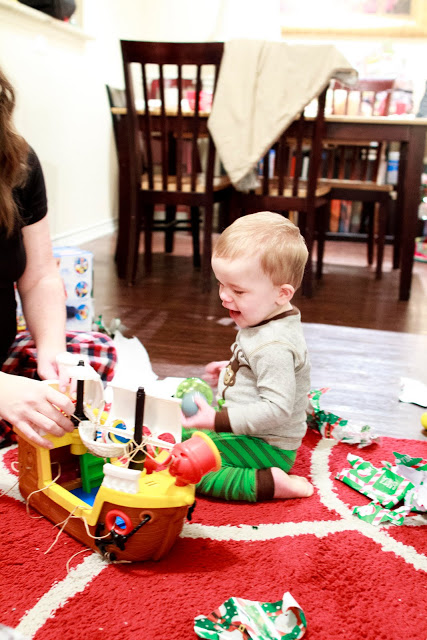 We had just enough time to open stocking, gifts from Santa and have our traditional breakfast. Then it was time to get ready for Church.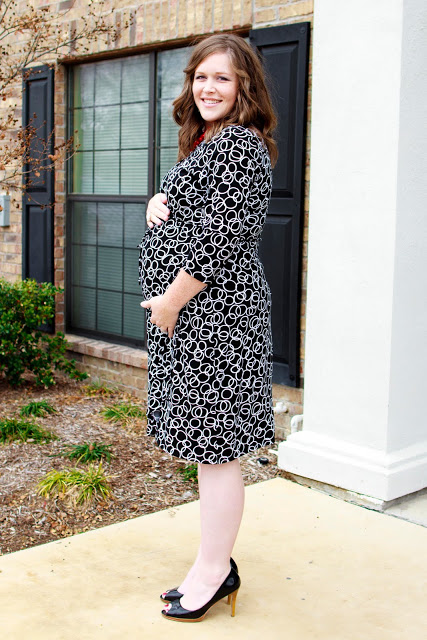 Me at 22 weeks! And no, I am sad to report that I am not wearing white tights. Can we say "glow in the dark?"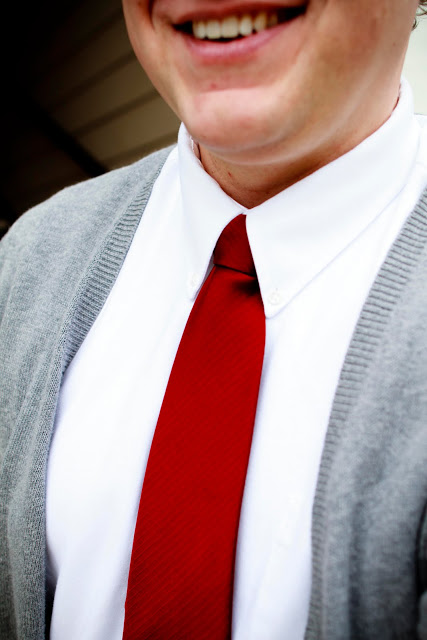 I made all of us coordinate and I didn't even get a whole family picture! I didn't take many pictures at all. Even though you can't see all of Ian's face, I love this picture of him!
It was a wonderful Sacrament Meeting and I cried through almost every hymn/carol we sung. Nice pregnancy hormones!
We came back home, opened up the rest of our gifts (which took hours because the boys wanted to play with each and every gift after they opened it) and that's the way it should be!
Christmas was pretty low key this year and looking back on it…it was wonderful!