There is only one pasta salad that I actually crave. It's Suddenly Salad Bacon and Ranch. My mom used to make it all the time a few years ago and at first I was repelled at the thought of this salad on my plate. It didn't appeal to my tasty senses at all! That is, until I was pregnant with Liam and most of my taste buds did a 180 on me. And let's not talk about how much of that pasta salad I ate when I was pregnant with Owen! This pregnancy was a different ball game with my turn off of bacon all together.
When you buy pre-packaged food you definitely get the convenience of it all. You also get the lack luster effect if you were to make it from scratch. AND most of the time it's more expensive. All of these pros and cons were weighed heavily when I decided I was going to create my own fresh version of my favorite pasta salads. I must say, it's mighty delicious and I get a whole lot more for my $$$.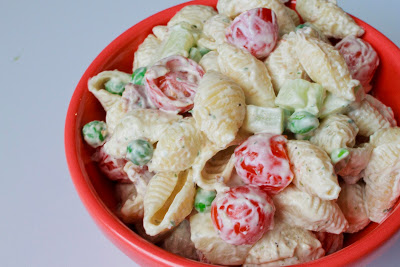 Bacon Ranch Pasta Salad

1 lb medium shell pasta
1 pint grape tomatoes
1 lg cucumber
1 1/2 cups frozen peas, thawed
1-1 1/2 cups cooked and chopped bacon*
1 pk dry Ranch mix
1 1/2 cups mayonnaise
1/2 cup sour cream
Cook pasta according to package directions. Rinse with cold water until pasta is cool. Drain and pour into a large bowl. Halve the tomatoes and add to the pasta. Peel the cucumber and cut it in half lengthwise. Using a teaspoon, remove all the seeds. Cut each half of the cucumber in half lengthwise again and give it a small/medium chop. You want it to be slightly smaller than your shells. Add your cucumber and thawed peas to the pasta. In a small bowl, mix together dry Ranch mix, bacon bits, mayonnaise and sour cream together. Pour over pasta mixture and toss until well combined. Cover and chill until ready to serve. If you are making this dish ahead of time, reserve some of the ranch mixture to toss over salad right before serving. With any pasta salad, it tends to soak up any sauce so this will just "freshen" it up.
*With it comes to the bacon for the dressing you have many options. I use the precooked bacon, crisp it up and just crumble it. You can also cut up about 6 slices of bacon and then cook it. Or use a full jar of "real" bacon bits. It's really whatever you have time for.
Don't forget about
my giveaway here (towards the bottom of the post).
Make sure to leave your email address!