Going with my food theme this month I'm sharing this recipe that I posted almost two years ago because it's a favorite.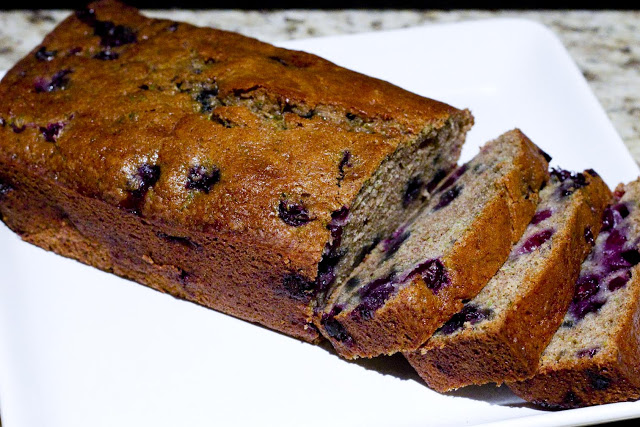 Zucchini and Blueberry Bread

1/2 cup oil or applesauce
1/2 cup sugar
3/4 cup brown sugar
1 large egg plus 1 egg white
2 tsp vanilla
1 1/4 cup shredded zucchini (one large or two small zucchini)
1 1/2 cup all purpose flour
1/2 tsp salt
1/2 tsp baking powder
1/4 tsp baking soda
2 tsp ground cinnamon
2 c. fresh blueberries
2 TBSP flour
Preheat
oven to 350° and prepare one regular loaf pan or 3 mini loaf
pans. In large bowl, combine oil and/or applesauce, sugars, egg and
vanilla. Stir to combine well. Stir in zucchini to combine. Add 1 1/2
cups flour, salt, baking powder and soda, cinnamon and fold ingredients
until just barely combined. In a separate bowl toss blueberries in 2
TBSP flour. This will help them be evenly distributed throughout your
bread. Gently fold in blueberries. Place into loaf pan(s). Place in
center of oven to bake until toothpick inserted into center comes out
clean, about 60-75 minutes for loaf pan and 35-40 minutes for miniature
loaf pans. Let cool in pans for 15 minutes and remove to let cool
completely before slicing and serving.