Can you believe it August already? And you can tell because of how hot it is outside! I've actually been waiting for this month for a while. Not just because my first born will be starting school any day now (I'm excited for him, but not completely sure I'm ready for him to be gone for so long during the day!) But because I five fun "bread" recipes that I wanted to share with you over the next 5 weeks! I use the word "bread" loosely because these recipes are baked in a loaf pan, but they are more like cake! If you don't have a loaf pan, I would highly suggest you pick one or two up because you are not going to want to miss out on these breads/cakes/yummies!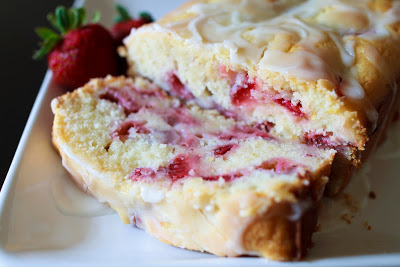 Strawberry Lemon Bread

1/2 cup butter, softened
1 cup sugar
2 eggs
zest of 1 medium lemon
2 TBSP fresh lemon juice
1 1/2 cups flour
1/4 tsp soda
1/4 tsp salt
1 cup sour cream
8 oz. fresh strawberries
1 TBSP flour
Glaze
1 cup powdered sugar
2 TBSP fresh lemon juice
Preheat oven to 325°. Spray one loaf pan with cooking spray. In a medium bowl, whisk together 1 1/2 cups flour, soda and salt. Set aside. In a large bowl (or stand mixer) cream together butter and sugar. Add in one egg at time and blend well. Mix in lemon juice and zest. Blend in 1/3 of the flour mixture and alternate with half of the sour cream, ending on the flour mixture. Hull strawberries and give them a medium chop. Place in a medium bowl and toss with 1 TBSP of flour. This will help them bake evenly throughout the bread. Fold into batter mixture. Pour into greased loaf pan and bake for 45-50 minutes or until an inserted toothpick in the center comes out clean. Cool in the pan for 10 minutes then invert onto a wrack and cool completely.
*This recipe is great for those summer strawberries that are just starting to be a little too ripe!