Growing up I thought that carrot cake was the dessert for old people. It makes me laugh now because I thought 30 was old back then!
I was missing out all those years because carrot cake is delicious! Let me restate…carrot cake is delicious when it's make correctly. Without pineapple OR nuts! That's just my taste and I haven't eaten any other carrot cake that's made me change my mind.
These next few words I take very seriously. This is the best carrot cake ever. Like ever.
Hands down.
Can't be topped.
You need no other recipe.
The moment you put a fork full of this moist cake and creamy frosting in your mouth, your next thought will be, "Yep. Amy was right!"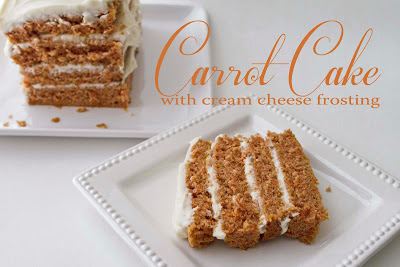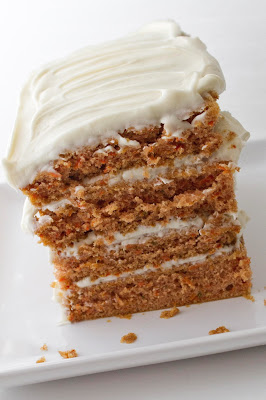 Carrot Cake With Cream Cheese Frosting
Printable Version
Serves 8-10


Cake
1 1/2 cups sugar
1/2 cup vegetable oil
1/2 cup applesauce
3 eggs, large
1 1/2 tsp pure vanilla extract
2 cups flour
1 1/2 tsp cinnamon
1 tsp baking soda
3/4 tsp salt
1/2 tsp nutmeg
3 cups carrots, shredded
Preheat oven to 350. Grease and flour two loaf pans. In a large bowl cream together sugar, oil, applesauce and eggs for 2 minutes on medium speed. Add in vanilla and mix until incorporated. In a separate bowl whisk together flour, cinnamon, baking soda, salt and nutmeg. Pour into sugar mixture and mix until just about combined. Add in carrots and mix until completely combined. DO NOT over mix. Evenly divide batter into prepared loaf pans. Smooth out to evenly spread in pan. Bake for 30-35 minutes or until inserted toothpick in the center comes out clean. Remove from oven and cool for 10 minutes. Remove cake to a cooling rack and completely cool. Once cooled, slice each cake in half horizontally and frost.
Cream Cheese Frosting
1 8 oz. pkg cream cheese, softened
4 TBSP butter, softened
1 1/2 tsp pure vanilla extract
4 cups powdered sugar
Beat together cream cheese, butter and vanilla. Slowly add in powdered sugar until combined.