Last week was my dad's birthday. Since we couldn't celebrate with him, Ian and I decided to make one of his favorite things for dinner in honor of him. The Gobbler. When my parents were first married he worked at fast food restaurant in Las Vegas called Farm Basket (I think it was called something different back then, though). There is still one location left off of Red Rock and every time we have visited Vegas it is a must that we stop on in and get the Gobbler. Farm Basket is a chicken joint. There are basically only a few items on the menu…all of them quite delish. The Gobbler is so easy it's almost complicated! Home made roll, breaded turkey breast, cranberry sauce and Miracle Whip. Since I am the only one in my family who thinks miracle whip is the devil's condiment…I use mayo. I also like to dip mine in turkey gravy, but I am also the only one in my family that likes it that way…to each his own I guess.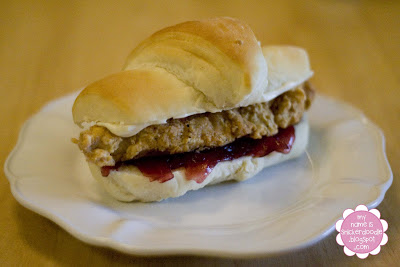 The Gobbler
Homemade Rolls or soft hoagie buns
4 Turkey Breasts or 6-8 chicken tenders
2 cups flour
2 tsp Lawry's Seasoning Salt
2 tsp pepper
2 tsp garlic powder
1 tsp paprika
1 tsp chili powder
4 eggs
oil
mayo or miracle whip
cranberry sauce
In a medium bowl whisk together flour, pepper, Lawry's season salt, garlic powder, paprika and chili powder. In another bowl, whisk together eggs with 1 TBSP water. On medium high heat, heat oil in a deep frying pan. If using turkey breast make sure they are not too thick…if so, cut them half lengthwise to make two thinner breasts. Dip poultry into flour mixture first and shake off excess. Dip into egg mixture, then flour, then egg and then flour again. This will give it a thicker breading. Place in hot oil and cook about 4 minutes on each side. You want them to be golden brown and make sure they are cooked through. Drain on paper towels. Spread cranberry sauce on one side and mayo on the other side of roll. Place one or two strips (depending on the size) on roll. Dip in hot chicken gravy if desire…which is how I think it's best!
Growing up and we would have a family party, my grandma would always make this punch that I never could get enough of. I never saw her make it so I always thought it was really hard to make with a ton of ingredients. Before I was married, I got her secret and was shocked that it was three things. Just make sure you make it in a large enough container….not a 2 quart pitcher because it will overflow.
Grandma's Family Party Punch
1 pkg Fruit Punch or Cherry Kool-Aid
1 cup sugar
8 cups water
1 can frozen orange juice concentrate
Mix Kool-Aid, sugar and water in a large pitcher. Stir in orange juice concentrate. DO NOT add additional water for concentrate. Chill.