If you are looking for a completely irresistible soft and chewy Ginger Cookie, oh boy do I have one for you! These would make for any great holiday treat to share with your neighbors or bake up a batch and treat yourself along with a cup of hot chocolate!
And if these weren't delicious enough, wait till tomorrow when I add a whole other element that will knock your socks off. Let's just say I've made them too many times that the button on my jeans will allow!!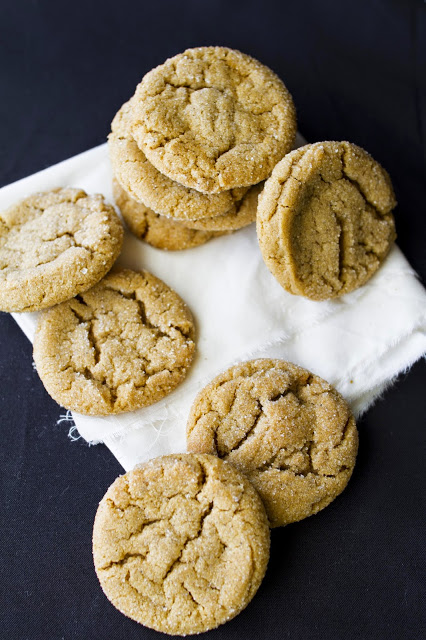 3/4 cups shortening
1 cup sugar
1/4 cup dark molasses
1 egg
2 cups all purpose flour
2 tsp baking soda
1/4 tsp salt
1 tsp cinnamon
1 tsp clove
1 tsp ginger
1/2 cup sugar (for rolling)
Preheat oven to 375 degrees. In a large bowl, cream together shortening, sugar and molasses. Add in egg and beat well. In a medium bowl whisk together flour, soda, salt, cinnamon, clove and ginger. Add to your wet mixture and mix just until combined. Using a 2 TBSP scoop, shape dough into balls and roll in 1/2 cup sugar. Place on a cookie sheet and slightly press flat with a flat bottomed glass (or fingers). Bake for 8-9 minutes or until they start to slightly crack on the top. Cool for 5 minutes on cookie sheet then transfer to a wire rack to completely cool.