I've been obsessed with the idea of heart shaped bacon for years and I finally got around to making it!  Did you see my Love Bug Breakfast I posted a few days ago?  The bacon stole the show!  I knew that I wouldn't be the only one who loved it so I made a video on how I did it.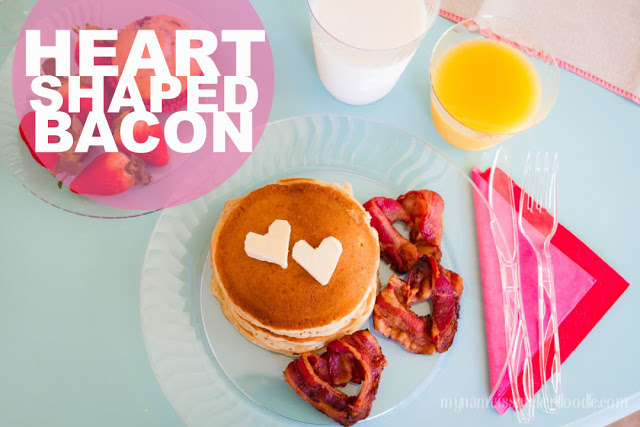 It really is easy to do and whoever you serve it to will feel extra loved!  I made this for a Valentine's breakfast, but this would be great to make anytime of the year.  I think it would be just as fantastic garnished on a salad or atop a grilled chicken breast with some cheese and BBQ sauce.
For now, though, I'm focusing on all things hearts for the holiday and can't get enough!
I used a full pound of bacon and thick cut works best.  It will make about 10-12 hearts depending on how many strips come in your package.  I will admit (so no one will call me out for it later) that some of the hearts separated during the cooking process.  Just check them about halfway during the cooking time and reshape them using tongs.  No one is going to turn down a misshaped bacon heart!
Here's the full directions on how I did it.  
1.  Preheat oven to 400 degrees.
2.  Line a baking sheet with foil or parchment paper.
3.  Cut thick cut bacon strips in half.
4.  Take one half strip and fold back the top 1/3 of it.
5.  Place it on the lined baking sheet at an angle with the fold side down.
6.  Repeat with another half strip and place the ends over the other ends of the first strip.
7.  With your fingers, form it if needed into a better heart shape.
8.  Repeat until you have 6-8 hearts on your sheet.
9.  Bake for 20 minutes for tender bacon hearts for 25-30 minutes for crisp bacon.
10.  Drain on a paper towel and serve.
I'm partnering with Amazon and sharing some fun heart shaped tools to make your Valentine's Breakfast extra fabulous! Click the links below!
Heart Shaped Pancake Molds
Heart Shaped Fried Egg Mold
Heart Shaped Disposable Dinnerware 
Pink Fruit Infusion Drink Pitcher