Okay…the last few weeks days my pregnancy brain has been really working overtime. For those of you unfamiliar with the term "pregnancy brain", it's something that happens to some pregnant women's brains…we become very, very, VERY forgetful. Forgetting words, forgetting that you are holding your car keys all the while frantically looking for them, or forgetting what you ate for breakfast that morning. It's been really bad for me lately. I don't get frustrated by it because I forget why I am frustrated in the first place!
Lately, I have been amazed by how many people have been following me on Pinterest. I was so confused of how they even found me there. I mean, Amy Williams is a pretty common name. I just chalked it up to some quirk with Pinterest, like someone just liked a pin of mine then it automatically had them follow me.
I've been thinking about some changes that I want to make to my blog and I've been wanting Ian to create a Pinterest button for me. People…it wasn't until MINUTES AGO that I realized I already had Pinterest button and THAT'S how everyone has found me! I completely forgot that Ian already created me one, to my specifications, months ago!
If you are wondering…I have not forgotten to feed my kids every day and yes, I am completely dressed currently!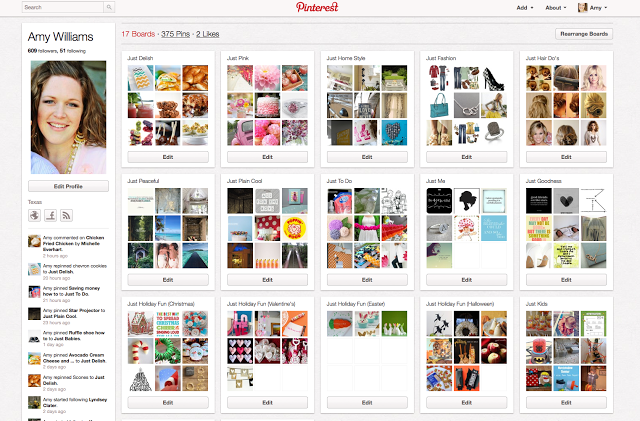 I've been thinking about this fab site lately (did you know there are knock off versions?) and how much I've been inspired by it. I am pretty picky about what I pin so I don't have a million, but just enough to keep my going.
This brings me to the point of this whole post (took me long enough, right?). I would love to start following all of you! Leave me a comment with your Pinterest account link so I can add to my inspiration! You know where to find me (apparently better than I do!)
Come back early next week for a fun Pinterest tutorial!