This pregnancy all I've wanted is fruit smoothies. I just love smoothies of all kinds. Ian has been great and has picked me up one at least once a week on his way home from work. I created this recipe last week because he was going to be late and I couldn't wait any longer for my smoothie!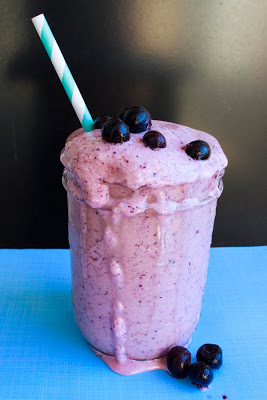 Blueberry Pineapple Smoothie
Printable Version
Pin It
Serves 4
1 can Pineapple Orange concentrate
1 1/2 cups milk
1 cup frozen blueberries (If using fresh blueberries increase ice to 2 cups total)
1 1/2 cups ice cubes
Spoon concentrate into a blender. Add in milk, blueberries and ice. Blend until completely smooth. Serve immediately.