I've been making a lot of my go to recipes lately. Nothing new which means that after today, I am out of fresh ideas for FFF! YIKES! This recipe I did months ago so I may have to go digging in my picture archives to see if I have any hidden recipe gems that I captured digitally.
And, don't think for one second that recipe was last on the totem pole because it lacked in flavor. No, no, no. I was saving it for more warmer weather because this is not what you consider a wintery treat! So bring on spring and give yourself a reason to make this dessert. I found the original recipe over at Mel's Kitchen Cafe (we all know that woman can cook!) and altered mine a bit to make it my own.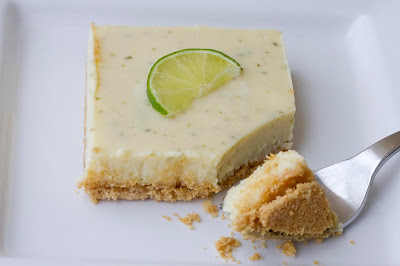 Lime Bars
Makes 18 Bars
Printable Version
Pin It
Crust
2 1/2 cups crushed animal crackers (or graham crackers)
3 tablespoons packed light brown sugar
Pinch salt
4 tablespoons butter, melted
Filling
4 ounces cream cheese, softened to room temperature
2 tbsp grated fresh lime zest (about 2 medium limes)
1 can (14-ounce) sweetened condensed milk
1/8 tsp salt
2 large egg yolks
1 cup fresh lime juice (about 3-4 medium limes)
Preheat the oven to 325°. Spray an 8×11 (or 9×9) pan with cooking spray.
For the crust, mix together animal cracker crumbs, sugar and salt together until well combined. Mix in melted butter and combine with a fork. Sprinkle the mixture into the prepared pan and press the crumbs into an even layer. Bake about 15-18 minutes until lightly golden brown. While the crust is baking, in a medium bowl, beat together the cream cheese, lime zest and salt together until combined. Whisk in the sweetened condensed milk, egg yolks and lime juice until combined and smooth. Pour the filling evenly over the crust. Bake the bars until the filling is set and the edges just slightly begin to pull away from the sides of the pan, about 20-25 minutes.
Let the bars cool completely in the pan set on a wire rack for about 2 hours. Once cooled, cover the pan with foil or plastic wrap and refrigerate until chilled, about 2 hours. *Cut into bars. Chill until ready to serve.
*When cutting bars of any type (brownies, lemon bars, etc.) use a plastic knife to prevent tearing or crumbling.